Cowboys optimistic Zack Martin will be ready for week 1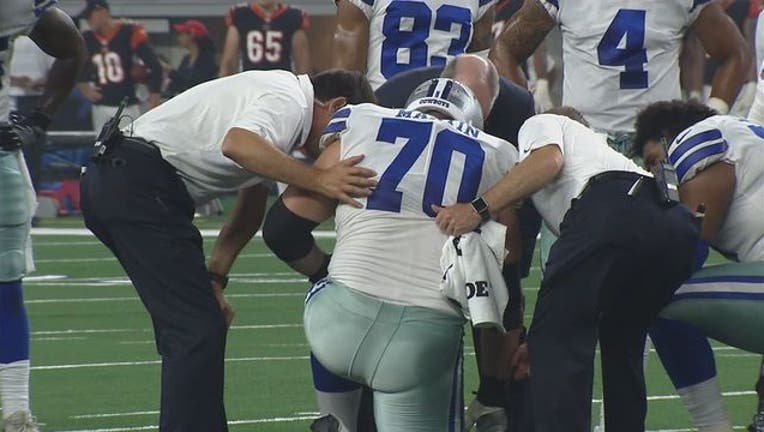 It appears the Cowboys can breathe a huge sigh of relief.
Right guard Zack Martin received good news Sunday following an MRI on his hyperextended left knee. The test revealed no significant damage, and Martin could be ready to go for week 1 of the regular season.
The four-time Pro Bowler suffered the injury in the second quarter of Saturday night's preseason loss to the Bengals, when cornerback Dre Kirkpatrick hit Martin low on a running play. He did not return to the game, but he was standing on the Dallas sideline during the 4th quarter.
Following the game, Jason Garrett and Jerry Jones were both optimistic based on the initial evaluations. Martin has not missed a regular season game in his career.
The outlook for Xavier Woods' hamstring strain is less positive, though not devastating, for Dallas. The safety is likely out two to four weeks, which means he could miss the opener against Carolina. Woods limped off the field after diving on an interception attempt in the second quarter Saturday.
The Cowboys will cross their fingers that the injury report can stay relatively clean for week 3 of the preseason, which is normally a dress rehearsal for the regular season. Dallas is already dealing with a banged up Travis Frederick (stingers), Leighton Vander Esch (groin) and Cole Beasley (groin), who all sat against Cincinnati.
Running back Ezekiel Elliott has yet to play this preseason. He said earlier in training camp that the plan was to get on the field in the third exhibition game, but Jerry Jones said Saturday night that he's seen all he needs to see from his star player. If the Cowboys don't want to push their luck, they'll save Elliott for the games that actually matter.