Cold-shooting Texas A&M downs Missouri 60-49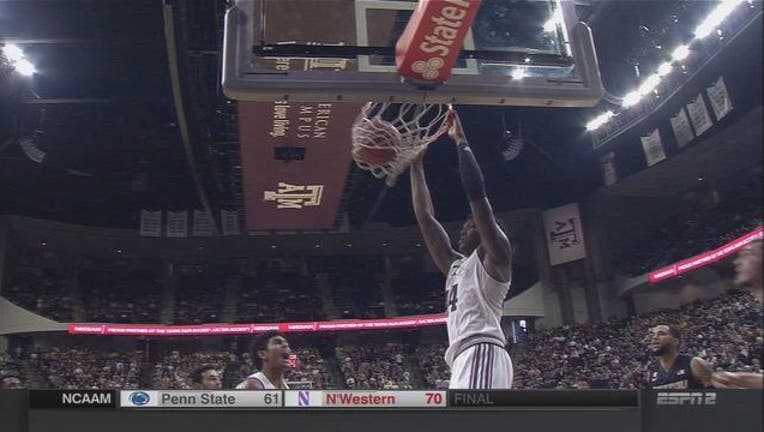 article
COLLEGE STATION, Texas (AP) - Texas A&M, once ranked No. 5 nationally to start Southeastern Conference play, believes it's finally back on track following its second consecutive league victory.
"It's good to get back to the way we're capable of playing on the defensive end and taking care of the ball offensively," A&M coach Billy Kennedy said following the Aggies' 60-49 victory over Missouri on Saturday.
Tonny Trocha-Morelos scored a season-high 14 points and the Aggies (13-6, 2-5) continued a tedious recovery from an 0-5 start in SEC play in which they dropped out of the rankings along the way.
"We lost five straight and to come back with two straight wins shows we really care, and that we really want to prove to everybody that we want to win this," Trocha-Morelos said.
On Saturday both teams shot poorly from the field, as A&M converted 39.1 percent (25 of 64) of its shots and Missouri made 27.8 percent (15 of 54) of its attempts.
Missouri was held to season lows in points and shooting percentage, in the Tigers' seventh straight loss to A&M. The Aggies led 29-20 at halftime and were aided in the second half by two rare swishes from the right baseline by the senior center Trocha-Morelos, along with his 15-foot jumper from the free-throw line that put the game out of reach at 58-46 with 1:38 remaining.
"It was the tough, physical game that we expected," said Missouri coach Cuonzo Martin, pointing out A&M's early SEC troubles were primarily because of injuries. "They have a very talented team."
No one from the Tigers (13-6, 3-3) scored in double digits, as Jordan Geist, Jeremiah Tilmon and Jordan Barnett scored nine points each. Both teams struggled from the 3-point line, with A&M making 3 of 17 (17.6 percent) and Missouri 4 of 18 (22.2 percent).
A&M center Tyler Davis was the only player with double-digit rebounds with 14 and he also collected a game-high three blocks.
BIG PICTURE
Texas A&M: The Aggies continue to try and work their way back into the NCAA Tournament mix with their second consecutive win in SEC play, following the 0-5 start that included one-point losses at home to LSU and on the road at Kentucky. The talented Aggies are as healthy as they've been all season, and their confidence continues to grow early in SEC action.
Missouri: The Tigers defeated South Carolina by double-digits in their SEC opener, so they've proven they can win on the road in league play. They only held a brief lead early in the second half on Saturday, however, as the surging Aggies kept them at arm's length for most of the final 20 minutes. The outcome never seemed in doubt, and Missouri often appeared overmatched against A&M big men Robert Williams and Davis.
STAT OF THE NIGHT
The Aggies committed a season-low four turnovers, with their next lowest total this season 10. Forward Robert Williams committed two of the miscues, with no other A&M player having more than one.
ON THE BENCH
A&M point guard J.J. Caldwell didn't log any minutes, as Kennedy said it was coach's decision to go with fellow freshman T.J. Starks to try and provide some offense. The move worked, with Starks scoring 11 points on 4-of-9 shooting from the field.
UP NEXT
Texas A&M: Following consecutive home games, the Aggies play at LSU on Tuesday night. LSU beat A&M on a last-second 3-pointer by Tremont Waters in College Station on Jan. 6.
Missouri: The Tigers play host to Auburn on Wednesday before going back on the road for their next two games at Mississippi State and Alabama.