Cody Eakin scores in OT, Stars beat Blues 3-2 to tie series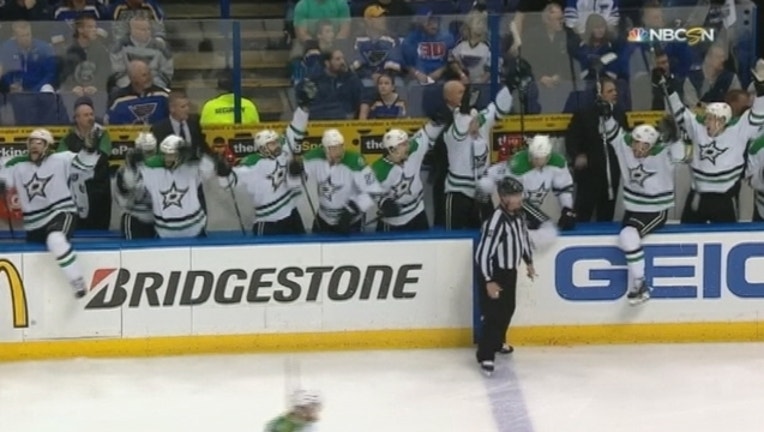 ST. LOUIS (AP) — In short order, the Dallas Stars went from embarrassed to triumphant.
Cody Eakin scored at 2:58 of overtime and the Stars beat the St. Louis Blues 3-2 on Thursday night, bouncing back smartly from a blowout loss two days earlier to tie the second-round series at two games apiece.
"I said, 'It's time for us to man up,' and I thought we did," coach Lindy Ruff said. "I thought our leaders were our leaders."
Patrick Sharp set up the winner and also scored for the Stars, coming off a 6-1 loss in Game 3. Rookie Radek Faksa had the other goal, his third of the postseason.
"I know it was ugly for a lot of the guys and the team in general for Game 3," Sharp said. "Credit to the team, we were able to put it behind us."
Vladimir Tarasenko scored his sixth goal of the playoffs on a first-period breakaway and added an assist for St. Louis, giving him five points in the last two games. Paul Stastny had his first of the postseason off a deflection from Tarasenko.
The Stars, who finished first overall in the Western Conference, regained home-ice advantage heading into Game 5 on Saturday in Dallas.
"It doesn't matter if we're in Dallas, if we're in St. Louis, if we're in the middle of nowhere," Blues captain David Backes said. "We've got to play our same style of game, put it out there and when we do that the chips fall on our side of the table more often than not."
Eakin has a goal and seven assists in the postseason and hustled to get into position on the deciding score. He beat Brian Elliott on a 3-on-2 break after getting a stick on Jori Lehtera's shot in tight on the other end against Kari Lehtonen.
"That's the nice thing about finishing first, we've got home court advantage back," Eakin said. "It's a race to two, and it's going to be a lot of fun."
The Stars are 1-2 in overtime in the playoffs and the Blues are 2-2.
Dallas is 5-1 with Lehtonen, who made 24 saves, in the playoffs. Ruff also has used Antti Niemi extensively, and joked about the daily controversy.
"Now, we've got a decision to make next game with these two goalies," Ruff said.
Elliott stopped 25 shots for St. Louis and thought he was in good position on the winner.
"It almost looks like it goes on the outside of the net and in, that's how close it was," Elliott said. "Just regroup and go take a game from their barn."
Tarasenko's goal was an exception to the rule in a tight-checking first period. Somehow he found the defense napping and scored his 16th career goal in 24 playoff games, beating Lehtonen between the pads.
The Stars looked worse on the play given they had six men on the ice, an infraction that went undetected.
"We still couldn't defend Tarasenko, which is kind of ironic," Ruff said. "But that was my mistake.That was on me."
Faksa, who had the deciding goal in the Stars' Game 1 victory, tied it on an unassisted goal off a giveaway by fellow rookie Joel Edmundson. Sharp had a tap-in for his first point of the series on a power play off an assist by Jamie Benn, giving the Stars two goals in 1:09 and the lead.
They'd been 0 for 12 with the man advantage before Sharp's fourth of the playoffs overall.
Edmundson played sparingly the rest of the period, totaling 2:38 in four shifts. He totaled 10:39, by far the fewest among the Blues defensemen.
"I don't want to get into going after a guy. Wrong time to do it," coach Ken Hitchcock said. "Young player, they're going to make mistakes."
Stastny's first goal of the playoffs on a deflection from Tarasenko tied it on a 4-on-3 power play at 13:06 of the second.
NOTES: Tarasenko leads the Blues with 11 points in the postseason. ... F Colton Sceviour, who scored the Stars' lone goal in Game 3, was among their scratches along with F Curtis McKenzie, who was pummeled by Ryan Reaves late in Game 3. Brett Richie played for the first time in the postseason, and Valeri Nichushkin played in his seventh game. ... The Blues have been outscored 14-7 in the second period in the playoffs. ... Several Cardinals players attended the game, including Yadier Molina and Carlos Martinez. ... The Blues raised funds from a 50-50 raffle for victims of the Fort McMurray, Alberta, wildfires. ... Hitchcock has 82 playoff victories, tied with Mike Babcock and Toe Blake for ninth on the career list.