Cashner gets homer help, pitches Rangers over Nationals 5-2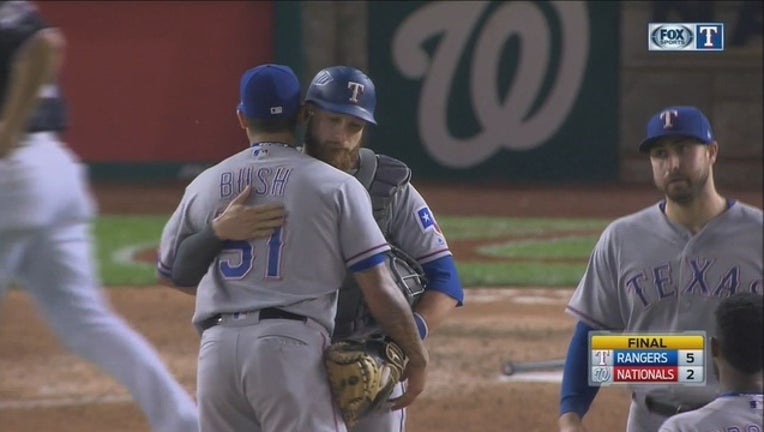 article
WASHINGTON (AP) - It was Tanner Roark bobblehead night, and he got the start for Washington. Once the game began, the Nationals were the ones with the bobbles.
Andrew Cashner quieted the NL's top-hitting lineup, Jonathan Lucroy and Rougned Odor homered, and the Texas Rangers beat the sloppy Nationals 5-2 on Friday night.
Texas took advantage of three errors, two by shortstop Trea Turner, and won for just the fourth time in 15 games.
"We didn't play very well on defense," Nationals manager Dusty Baker said. "We usually don't make those. It wasn't a very good day at the ballpark."
Cashner (3-5) allowed one run and six hits in seven innings. The NL East-leading Nationals began the day topping the league in runs, homers, batting and slugging.
"Our rotation needed a performance like this," said Rangers manager Jeff Banister after his struggling squad opened a six-game road trip with a win.
Cashner, who gave up five earned runs in two of his previous three starts, struck out four and walked two.
Lucroy had three of the Rangers' 13 hits, including a two-run homer and RBI single. Odor's solo homer in the seventh came on the final pitch from Roark (6-3).
The Rangers face Houston, owners of the best record in the majors, after two more games against the NL leaders.
"It's always important to get a win, and it's even more important with the two teams we're facing this road trip," Lucroy said.
Matt Bush entered with two runners on in the ninth and allowed Stephen Drew's pinch-hit RBI single, but recorded two outs for his seventh save.
Roark allowed five runs, only two of them earned, and 11 hits.
Anthony Rendon hit an RBI single in the sixth that pulled Washington within 4-1. Odor homered leading off the seventh.
Lucroy's homer came with two outs in the fifth. Both runs on the homer were unearned after first baseman Ryan Zimmerman's error on a hard-hit grounder by leadoff batter Shin-Soo Choo.
Turner's first error on Joey Gallo's grounder in the sixth eventually led to another unearned run. Roark, acquired via trade by Washington from Texas in 2010, walked Nomar Mazara with the bases loaded, scoring Gallo.
Elvis Andrus extended his hitting streak to 13 games with a single, the first of three against Roark opening the third, and scored on Lucroy's hit.
TRAINER'S ROOM
Rangers: With third baseman Adrian Beltre (ankle) sidelined for the second game in a row, Texas recalled infielder Jurickson Profar from Triple-A Round Rock and optioned LHP Dario Alvarez there. Profar replaced Beltre and went 0 for 5.
Nationals: RHP Joe Blanton was at Nationals Park following his one-inning of scoreless work for Double-A Harrisburg on Thursday. Washington put Blanton on the disabled list with shoulder inflammation on May 17. Baker said pregame the reliever must attempt pitching on back-to-back days once before activated.
DEALING WITH DUSTY
The topic of Baker's expiring contract recently became a hot topic and therefore a potential distraction for the first-place squad.
"It's not going be an issue," general manager Mike Rizzo said pregame. "We're not going to let it be an issue. Dusty's a true professional. He's been through this, the rigors of the regular season, a million times. I've been through is a million times. It's suffice to say there's great communication, great respect between the front office and the manager's office."
The 67-year-old Baker led Washington to the 2016 NL East title in the first season of his two-year deal.
RESPECT PAID
Members of the Rangers organization, including Banister and Bush, visited Walter Reed National Military Medical Center in nearby Bethesda, Maryland. "The No. 1 specific part of it is the overall joy that our Wounded Warriors have to see us walk through the door," Bannister said. "Us being sports figures. I don't think it matters a whole lot what jersey or what uniform you wear."
UP NEXT
Rangers: LHP Martin Perez (2-6, 4.64 ERA) is 0-1 with a 10.38 ERA over his last two outings.
Nationals: LHP Gio Gonzalez (4-2, 4.32) is 10-5 with a 2.94 ERA in day games over his career at Nationals Park.
___
More AP baseball: https://apnews.com/tag/MLBbaseball