Brady, Patriots pull away from Romo-less Cowboys 30-6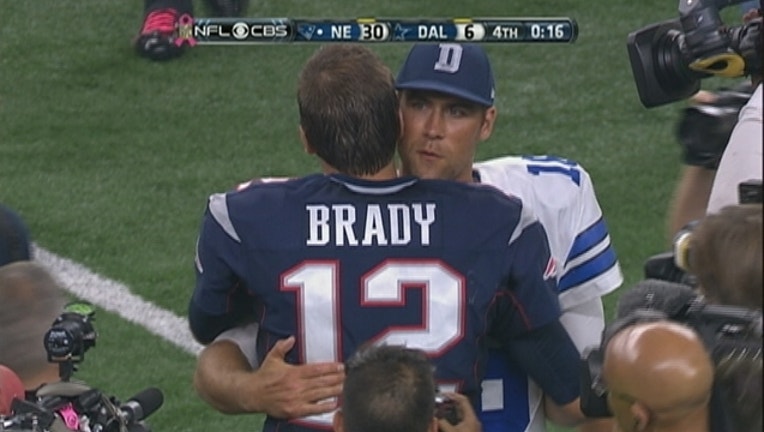 ARLINGTON, Texas (AP) — Tom Brady has another 4-0 start. The Dallas Cowboys tried to make it as difficult as they could without Tony Romo.
Brady threw for two touchdowns, with a 1-yard plunge for another score despite five first-half sacks, and New England pulled away from a powerless Dallas offense in a 30-6 victory Sunday.
The Super Bowl champion Patriots won their seventh straight game going back to the playoffs last year. The Cowboys (2-3) lost their third in a row without Romo and receiver Dez Bryant, both sidelined by injuries.
Dallas has at least four more games without Romo (broken left collarbone), and this was the biggest struggle so far for backup Brandon Weeden. He lost his 11th straight game as a starter going back to his time as a first-round draft pick in Cleveland.
The Cowboys had just 59 yards at halftime, and trailed 20-3 before their first long drive, which ended with the second of their two field goals late in the third quarter.
Brady, in his 16th season, joined Peyton Manning and Fran Tarkenton as the only NFL quarterbacks with 4-0 starts at least four times. It wasn't easy early.
The 38-year-old hadn't been sacked more than five times in the regular season since Buffalo had seven in 2001, the year he took over as the starter and won the first of four Super Bowls.
Greg Hardy, the defensive end making his Dallas debut after a four-game suspension for his role in a domestic violence case, had one of the sacks. He made headlines during the week for commenting on Brady's supermodel wife, Gisele Bundchen, after being suspended because the NFL believed he roughed up his former girlfriend last year.
Rolando McClain, the other key Dallas defender playing his first game after a four-game ban for violating the league's substance-abuse policy, had the first sack.
But the Cowboys didn't get to Brady after halftime, and the offense got rolling on a pair of throws to tight end Rob Gronkowski, who had 51 of his 67 yards receiving on the opening drive of the second half. Dion Lewis had a 10-yard scoring catch to finish that drive.
After Brady's sneak for New England's first touchdown in the second quarter, there were chants of "Bra-dy" from a large contingent of New England fans watching his first visit to the Cowboys' $1.2 billion stadium that opened in 2009.
The chants returned after his 59-yard pass to Julian Edelman for a 27-6 lead early in the fourth. Edelman had 120 yards receiving.
The rushing TD was the first for Brady since Dec. 16, 2012, when he had the last of his career-high four that season. He ended up 20 of 27 for 275 yards after throwing for just 110 yards in the first half. He came in averaging 371 per game for the NFL's No. 1 offense.
Stephen Gostkowski extend his NFL-best streak of made field goals to 19 with three, including a career-long of 57 yards in the final seconds of the first half. His previous long was 54.
The Cowboys stuck with Weeden, who was 26 of 39 for 188 mostly meaningless yards. Former Brady backup Matt Cassel was available for the first time since a trade with Buffalo on Sept. 22.
Cassel led the Patriots to an 11-5 record in 2008 when Brady was lost for the season to a knee injury in the opener. The Patriots missed out on the playoffs that year.
___
Online:
AP NFL website: www.pro32.ap.org and www.twitter.com/AP_NFL
___
Follow Schuyler Dixon on Twitter at https://twitter.com/apschuyler