Booker's late onslaught lifts Suns past Mavs 121-100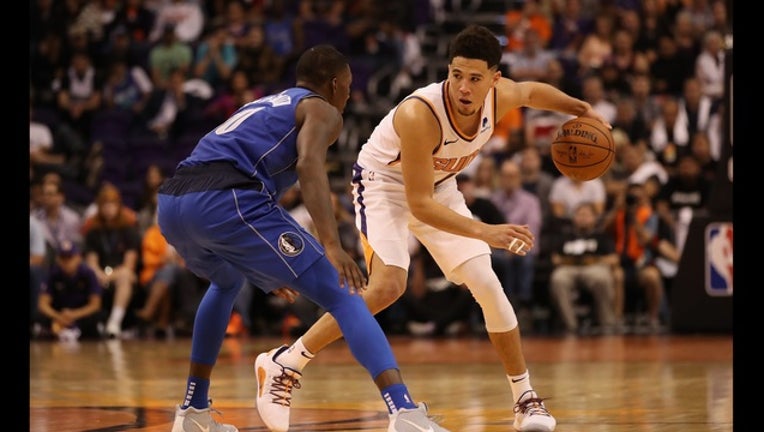 article
PHOENIX (AP) -- Devin Booker scored 19 of his 35 points in the final 6:44 and lifted the Phoenix Suns to a 121-100 victory over the Dallas Mavericks in the teams' season opener on Wednesday night.
Booker, who missed the entire preseason after undergoing a surgical procedure on his right (shooting) hand, sank four 3s, converted a three-point play, made a driving layup and hit two free throws after Dallas had cut what had been a 16-point lead to four.
Two of the NBA's top rookies squared off in their debuts with different results.
Deandre Ayton, the No. 1 overall pick in the draft, made 8 of 11 shots for 18 points, grabbed 10 rebounds and had six assists. Dallas' Luka Doncic, the No. 3 overall pick, struggled from the field, making 5 of 16 shots -- 0 of 5 3-pointers -- for 10 points. He had four assists and eight rebounds.
Trevor Ariza added 21 points, Josh Jackson 18 and T.J. Warren 17 for the Suns, who gave Igor Kokoskov a victory in his NBA head coaching debut.
The Mavericks, already without Dirk Nowitzki and Harrison Barnes, lost Devin Harris to a strained left hamstring in the first quarter and never led after the game's opening minute. Dwight Powell led six Dallas players in double figures with 16 points.
Ayton made his first shot, was fouled by Doncic, and the three-point play put Phoenix ahead 3-2. The Suns led the rest of the night.
They scored the final 10 points of the first quarter, including 3s by Ariza and Booker, to lead 37-24.
Dennis Smith Jr.'s two free throws cut the lead to 49-42, but consecutive Dallas turnovers led to a layup by Booker and Ariza's fourth 3-pointer and Phoenix led 56-46 at the break.
Phoenix twice stretched the lead to 16 in the third quarter and was up 83-73 entering the fourth.
But consecutive 3s by Dallas' Wesley Matthews and Jalen Brunson cut the Suns' lead to 94-90 with seven minutes to play.
Booker followed with a driving layup, added a 3-pointer as the shot clock expired and converted a three-point play to put Phoenix up 102-94 with 4:34 to go.  
The Suns made 19 of 34 3s, seven of nine in the fourth quarter.
TIP-INS
Mavericks: Nowitzki, entering his 21st NBA season, is out indefinitely recovering from left ankle surgery. ... Barnes missed the opener with a right hamstring strain. ... Doncic was part of the Slovenia national team coached by Kokoskov that won the EuroBasket gold medal in 2017. ... Dallas was 10 of 33 on 3-pointers.  
Suns: G Jamal Crawford, whose signing was announced earlier in the day, was not in uniform. ... Phoenix has won six straight against Dallas, sweeping the three games last season, when the Suns won a league-worst 21. ... Isaiah Canaan, coming back from a gruesome leg injury sustained on the same court last season, got the start at point guard. ... Canaan was one of nine players to start at point guard for Phoenix last season.
UP NEXT
Mavericks: Host Minnesota on Saturday. 
Suns: At Denver on Saturday.