Big 12 off to strong start with mixed record vs Power Five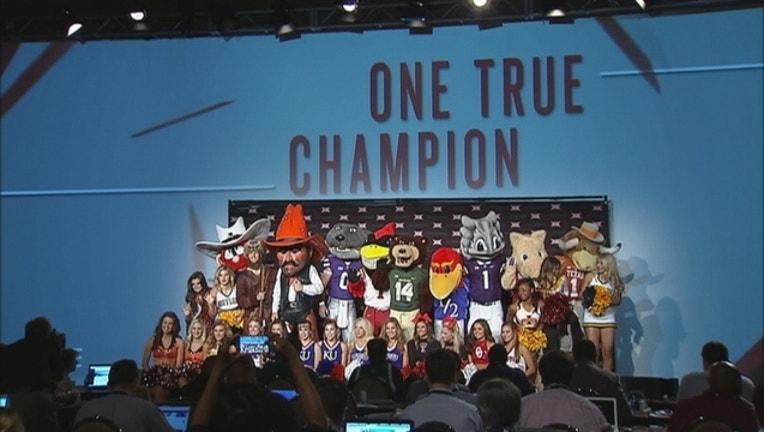 DES MOINES, Iowa (AP) — On paper, the Big 12 looks like a bunch of world beaters. Seven of the league's 10 teams are undefeated. Two of them are ranked in the top five.
Yet a conference trying to prove itself hasn't proven much of anything just yet.
One year after being snubbed by the playoff committee, the Big 12 is an impressive 21-6 overall. But the league is just 3-3 against fellow Power Five conference teams and Notre Dame, which whipped Texas 38-3.
The Big 12 will get two more cracks at non-conference wins this weekend, both against Big Ten teams. Kansas (0-2) takes on Rutgers in a matchup of struggling programs and West Virginia (3-0) hosts Maryland in a game neither the Mountaineers nor the league can afford to lose.
"We are going to continue to schedule Power Five opponents. When you have them on your schedule, you need to do everything you can to win," West Virginia coach Dana Holgorsen said. "I guarantee you at the Big 12 office, they are talking about all games against Power Five opponents as being able to state our case."
No. 3 TCU (3-0) and No. 5 Baylor (2-0) find themselves in similar positions to late last season, with lofty spots in the rankings but lingering questions about how good they really are.
The Horned Frogs and Bears have already played a common opponent. SMU (1-11 last year) was within 28-21 of Baylor late into the third quarter until the Bears pulled away for a 56-21 win. The Mustangs were down just 42-37 midway through the fourth quarter last week against TCU until the Horned Frogs posted a pair of late touchdowns.
TCU also struggled to win at Minnesota 23-17, and Baylor surrendered 31 points to Lamar on Sept. 12.
"I think one of the things you need to do is look at SMU and see what kind of football team they have, because I think they're a little bit better than what people give them credit for," TCU coach Gary Patterson said.
The Bears and Horned Frogs had better hope Patterson is proven right: If the Mustangs struggle again in the American Athletic Conference, it could impact their standing in the eyes of the committee — again.
The other eight teams in the Big 12 are a combined 16-6, though some of the wins haven't come easy.
Kansas State (3-0) needed three overtimes to beat Louisiana Tech, while Oklahoma State (3-0) struggled to beat Central Michigan 24-13 in its opener. Oklahoma (3-0) followed up its 31-24 double overtime win at Tennessee — the league's signature win so far — by letting up 38 points to Tulsa.
Texas (1-2) also lost to California 45-44 on a missed extra point, though new Longhorns quarterback Jerrod Heard's performance has sparked hopes of a resurgence in Austin. Kansas (0-2) has already lost to an FCS school and by 32 points to Memphis (both at home) and Iowa State (1-2) fell on the road at Toledo.
The ACC is a woeful 3-8 against Power Five teams and Notre Dame. The Big 12 (3-3) ranks alongside the Big Ten (7-7) and the Pac-12 (4-4), but trails the SEC (4-2). Those two SEC losses? They both came to Big 12 schools.
Texas Tech (3-0) followed up Oklahoma's win at Tennessee with a 35-24 victory over Arkansas that gave the Big 12 a welcome boost.
"It can't hurt. That's certainly is...a positive for the Big 12. But you compare yourselves with everybody," Baylor coach Art Briles said of Tech win over the Razorbacks.
___
AP Sports Writer Stephen Hawkins in Dallas contributed to this report.