Baylor women 9th straight Sweet 16 after 86-46 win over Cal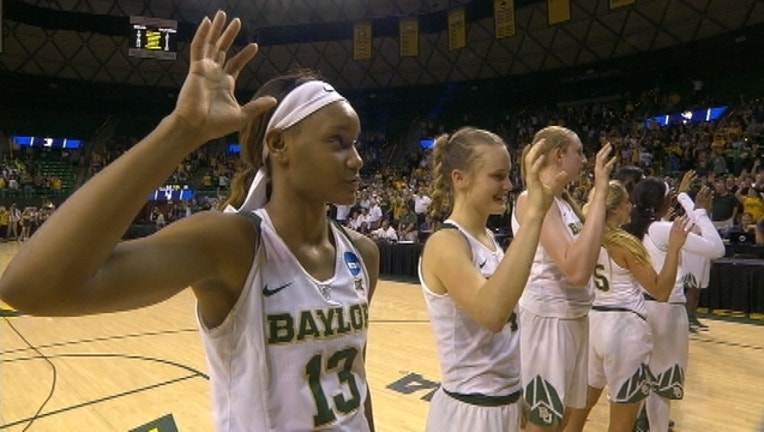 WACO, Texas (AP) - Alexis Prince and Nina Davis each scored 16 points and the Baylor women are going to the Sweet 16 for the ninth year in a row after an 86-46 win over California on Monday night.
Davis, one of four Baylor seniors, also had six rebounds and five assists in her last game at the Ferrell Center, where the top-seeded Lady Bears have won 12 consecutive NCAA Tournament games. Prince added five rebounds and six assists, while Kristy Wallace had 10 points and nine assists.
Baylor (32-3) took control with a 13-0 run in the second quarter, including freshman Natalie Chou hitting consecutive 3-pointers in a 17-second span during which coach Kim Mulkey emphatically pumped her fists. After a California timeout and then a missed shot, Prince hit a run-ending jumper that put Baylor up 35-16.
Kristine Anigwe had 20 points and 11 rebounds for ninth-seeded California (20-14), which for the second time in five seasons lost a second-round NCAA Tournament game against the Big 12 champions on their home court. After their 12th consecutive NCAA Tournament victory at home, including that record-setting 119-30 win over Texas Southern on Saturday, the Lady Bears are headed to Oklahoma City for their third Sweet 16 matchup against Louisville in nine seasons. The fourth-seeded Cardinals advanced with a 75-64 victory at home earlier Monday over fifth-seeded Tennessee.
There were six lead changes between Baylor and Cal in the first 3 minutes of their game, including five baskets scored in a 45-second span. But Davis' strong drive for a layup put the homestanding Bears up 8-7, and started a 9-0 run.
California had a longer scoring drought in the second quarter, going 6 1/2 minutes between their only field goals of the quarter while Baylor put the crowd and its coach into a frenzy.
Wallace had the ball and moved to the right side, near Chou, and motioned the freshman to move to the other corner. A couple of passes later, Chou buried the long shot from in front of the Cal bench, and then on the next trip down the court hit a 3 from the right wing.
BIG PICTURE
California: The Golden Bears started the season by winning their first 13 games, a school record. They then went 6-13 against Pac-12 teams before a win over LSU in the first round of the NCAA. The Golden Bears, who have been to five NCAA Tournaments in six years under coach Lindsay Gottlieb, will lose only one senior who played this season.
Baylor: The goal is to get to the Final Four in Dallas, which is about 100 miles from the Baylor campus. But the Lady Bears first have to win two games in Oklahoma City, where earlier this month they lost in the Big 12 Tournament championship game for the first time in seven years. That is also where they were knocked out of the NCAA Tournaments in 2013 and 2015, the first of those as defending national champions by Louisville.
UP NEXT
Baylor tries to get to the Elite Eight for the fourth straight year, taking on Louisville on Friday.
___
More AP college basketball: http://collegebasketball.ap.org and http://www.twitter.com/AP_Top25