Baylor snaps 4-game losing skid, beats Iowa State 81-67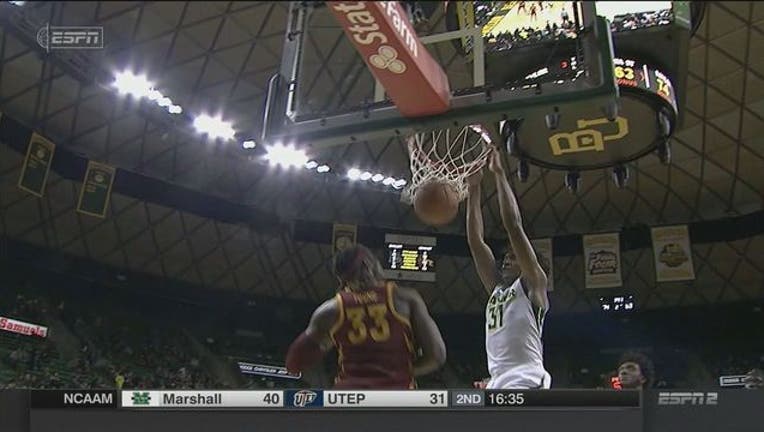 article
WACO, Texas (AP) - Terry Maston scored a career-high 23 points and Baylor ended a four-game losing streak with an 81-67 victory over Iowa State on Saturday night.
The lead changed hands eight times before the Bears went on a 15-0 run over a 2:12 span early in the second half. Baylor had three 3-point plays during the spurt, including one that resulted in a five-point trip after Iowa State coach Steve Prohm was hit with a technical foul.
Baylor (13-10, 3-7 Big 12 Conference) led 51-38 at that point and the Cyclones never got closer than eight the rest of the way.
Manu Lecomte added 14 points for the Bears, who won despite shooting 2 for 14 from 3-point range. Baylor made up for that with a 43-35 edge in rebounds and 52-28 in points in the paint. The Bears shot 62 percent in the second half and 50 percent for the game.
Jo Lual-Acuil Jr. added 10 points and 14 rebounds for Baylor.
Donovan Jackson had 15 points to lead Iowa State (12-10, 3-7). Cameron Lard and Lindell Wigginton scored 14 points apiece. All of Wigginton's came in the first half, and he led the Cyclones with eight assists.
Iowa State was 9 for 20 from 3-point range (45 percent), but shot 34 percent overall.
BIG PICTURE
Iowa State: The Cyclones fell to 0-5 on the road in the Big 12, thanks in large part to inconsistency. Jackson only had two points in the first half before finding his shot in the second, while Wigginton was 0 for 7 after halftime.
Baylor: With shots not falling from the outside, the Baylor guards were aggressive going to the basket. Lecomte missed all six of his 3-point tries, but scored two of Baylor's 3-point plays during the game-deciding spurt. Jake Lindsey and King McClure got high-percentage shots to combine for 17 points on 6-for-9 shooting.
UP NEXT
Iowa State finishes a two-game road trip on Wednesday when it meets No. 10 Texas Tech, which is tied for first in the Big 12.
Baylor is on the road against Oklahoma State on Tuesday.