Baylor running back Jefferson out injured, Linwood solid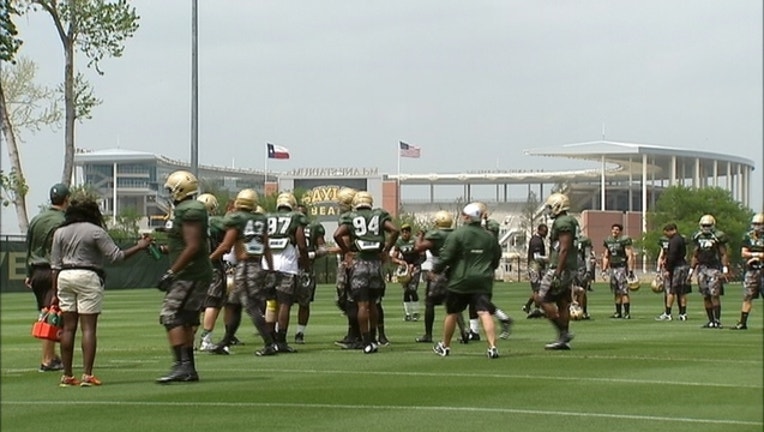 WACO, Texas (AP) — Johnny Jefferson, one of Baylor's two returning 1,000-yard rushers, has sore ribs from a car accident after already being out of practice because of a foot injury.
"He'll be out for a while," acting head coach Jim Grobe said after practice Monday.
Jefferson's foot was stepped on early in preseason practice, and he was already sidelined before the car accident Thursday.
Grobe said the foot injury is the bigger issue and isn't sure if Jefferson will be ready for the Sept. 2 season opener against Northwestern State.
"Everybody handles pain differently," Grobe said. "If the trainers and doctors feel like he can handle the pain and can go, we're pretty apt to try to push him to get back on the field. With the running back, the problem is if your wheels are banged up. A big part of his ability is he's a physical runner and he's got great balance, but a big part of him being successful is his foot speed."
The Bears should have back Shock Linwood, their other 1,000-yard rusher, who Grobe said has looked good in practice.
Jefferson capped his season of exactly 1,000 yards with 299 yards and three touchdowns in Baylor's 49-38 victory over North Carolina in the Russell Athletic Bowl, but Linwood (1,329 yards) missed the bowl game and spring practice because of a broken foot.
"He's looked solid. He looked solid in our summer workouts and has really gotten to the point where he just wants to get in shape," Grobe said of Linwood, who is close to being the school's career rushing leader. "He's a guy who stays out extra on his own. He knows he may have to carry the football a few times. ... But I sense a guy that's on a mission."
Jefferson and Linwood both missed Baylor's first scrimmage Saturday. While Jefferson was hurt, Linwood was taking part in graduation ceremonies on campus.
Linwood has had consecutive 1,000-yard seasons for the Bears. His 3,462 career yards are only 204 shy of breaking Walter Abercrombie's school record that has stood since 1981.
"I didn't go at all this spring, so I was out since December. ... I was having to get myself back in football shape, but also work my mind mentally on recovering from the surgery and all that," Linwood said. "So being able to bounce back and redirect myself was the most important part for me to do."
Notes: Receiver KD Cannon, who underwent arthroscopic knee surgery in early July, practiced for the first time Monday. "We're in pretty good shape as far as being a little less than three weeks away," Grobe said. "That gives you plenty of time to gradually work your way back in." ... Senior defensive tackle Byron Bonds hasn't practiced during preseason camp because of a knee injury.