Barnes scores 23, leads Mavericks past Bulls 103-98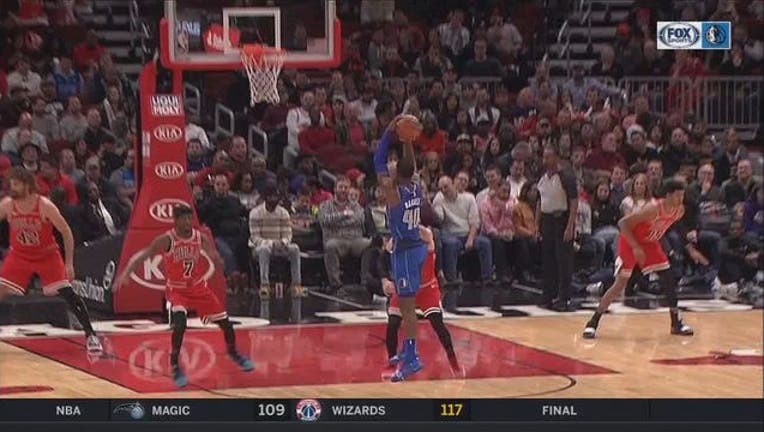 article
CHICAGO (AP) - Harrison Barnes scored a season-high 23 points and the Dallas Mavericks overcame a sluggish performance by prized rookie Luka Doncic to beat the Chicago Bulls 103-98 Monday night.
Doncic, the leading scorers among NBA rookies, shot 3 for 12 and finished with 11 points as Dallas won for the third time in four games after a six-game skid. J.J. Barea added 14 points, five rebounds and five assists.
Zach LaVine led Chicago with 26 points. Jabari Parker scored all but two of his 16 points in the second half.
Chicago came up just short on a night when the Mavericks threatened to break the game open several times. It was 87-84 midway through the fourth quarter when Dennis Smith Jr. hit a jumper and Barnes made two free throws to stretch the lead to seven points. Doncic hit a 3 with just over three minutes left to make it 96-88. After the Bulls cut their deficit to four points, Barnes made two free throws with 10.5 seconds left and the Mavericks hung on.
TIP-INS
Mavericks: Dallas Mavericks guard Wesley Matthews missed Monday's game because of a strained left hamstring. Matthews did not travel to Chicago. He played 31 minutes in a win over Oklahoma City on Saturday. Coach Rick Carlisle says the Mavericks hope he can play Wednesday, when the Mavericks host Utah. ... Lincolnshire, Illinois, native Jalen Brunson scored two points in his first NBA game in Chicago. ... Carlisle said the Mavericks would have drafted Wendell Carter Jr. with the fifth overall pick this year had they not traded up to get Doncic at No. 3. Carter went to the Bulls at No. 7. "I see him as another coming of an Al Horford-type player," Carlisle said. ... Barnes' 22 points were a season-high.
Bulls: The Bulls expect F Lauri Markkanen to miss more time than they initially anticipated because of a left elbow injury he suffered in the preseason. Coach Fred Hoiberg said Markkanen will likely wind up missing nine to 11 weeks. The Bulls initially thought he would be out six to eight weeks after he was hurt in practice in late September. Hoiberg said Markkanen still is experiencing some pain and is not shooting from long range. ... Hoiberg said G Kris Dunn (sprained medial collateral ligament in his left knee) has not started running on the court. He was hurt at Dallas on Oct. 22. ... G Ryan Arcidiacono scored nine points in his first professional matchup with Brunson, his teammate at Villanova.
UP NEXT
Mavericks: Host Utah on Wednesday.
Bulls: Visit Boston on Wednesday.
___
More AP NBA: https://apnews.com/tag/NBA and https://twitter.com/AP_Sports