As Big 12 ponders expansion, American on guard for losses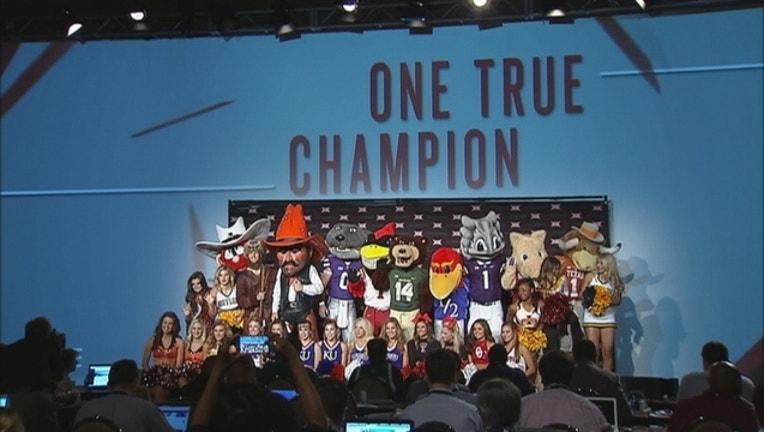 article
The Big 12 presidents will consider in the coming weeks whether the league should expand, leaving the American Athletic Conference on guard for the possibility of one or more defections.
"We always have plans for contingencies that might arise," American Athletic Conference Commissioner Mike Aresco told the AP on Tuesday.
"It's no secret that there could be more realignment. We discuss this a bit with our membership, but mainly to focus on the cohesion of the conference. We ask people to respect the membership. Because whatever happens, this is going to be a good, strong conference regardless."
Big 12 athletic directors have been meeting in Phoenix this week. The 10-team conference continues to ponder whether adding two more members, splitting into divisions and playing a football championship game will help the league increase both revenue and its chances to place a team in the College Football Playoff.
The Big 12 did not have either of its co-champions (Baylor and TCU) in the first playoff in 2014, but league champ Oklahoma reached the national semifinals last season.
At the meetings in Phoenix, Big 12 Commissioner Bob Bowlsby said a research firm presented data to the conference that showed switching to a 12-team, two division format, with eight conference games and a title game, would give the league about a 4 percent better chance to put a team in the playoff.
Ultimately, the decision will be made at the presidential level of each school, with plenty of input from athletic directors and Bowlsby.
The next Big 12 meetings start May 31 in Dallas and will include the university presidents and chancellors.
There are no obvious matches for the conference if it does decide to expand, but most of the best candidates reside in the American.
Cincinnati, Memphis, Houston, SMU, South Florida, Central Florida and Connecticut can all claim to bring either new TV markets or growing athletic programs — or both — to the Big 12. While officials at all those schools are diligent about publicly pledging allegiance to the American, behind the scenes they are positioning for a promotion to the Power Five.
The Enquirer in Cincinnati reported in February that documents and records from University of Cincinnati showed university president Santa Ono has been leading an extensive effort to promote the school to Big 12 leadership. The Commercial Appeal reported Tuesday that University of Memphis President M. David Rudd has made a similar push.
Aresco declined to say whether members have been forthcoming about efforts to leave the American.
"I don't want to go into too much detail on something like that, but I can say this: There is a tremendous level of camaraderie within the conference," Aresco said. "We have a good group that communicates well and I would not expect that to be any different regardless of what happens."
BYU, currently an independent in football while competing in the West Coast Conference in other sports, is another possibility for the Big 12. Boise State from the Mountain West also could make a case with its strong football program.
The American is three years old, having reinvented itself after massive realignment tore apart the Big East.
Aresco would not say where the conference could go for replacement schools, but Conference USA is where it found many of its new members following the mass departures.
"You always pay attention to things, you're always alert," Aresco said. "You always have the notion of what you might or might not do. But there's no reason for us to dwell on it. And there's no reason for us to focus on to the extent that we would be distracted from what we're trying to do."
___
Follow Ralph D. Russo at www.Twitter.com/ralphDrussoAP