AP source: Jerry Jones to pay NFL $2 million for legal fees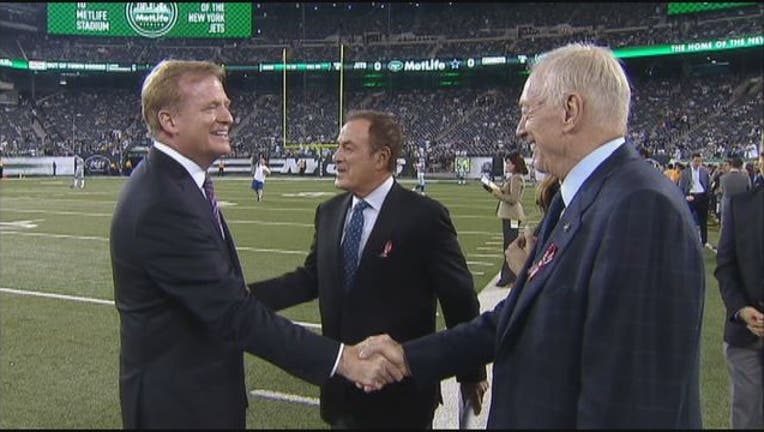 article
Jerry Jones has agreed to pay the NFL more than $2 million in legal fees resulting from two disputes the Dallas Cowboys owner had with the league, a person with direct knowledge of the settlement tells The Associated Press.
The amount to be paid was resolved Wednesday. The person spoke on condition of anonymity because the NFL did not announce details.
Commissioner Roger Goodell held an appeal hearing with Jones on Monday. That came a few days after Goodell assessed the financial penalties for Jones' lawsuit to overturn the suspension of Cowboys star running back Ezekiel Elliott, and for a lawsuit Jones threatened to stop Goodell's newly approved contract.
Many owners were consulted on seeking restitution, including members of the finance committee. Some finance committee members are on the compensation committee that was at the center of what became a legal back-and-forth over Goodell's deal.
The restitution is rooted in a 1997 resolution that states owners can seek repayment for legal fees if a fellow owner is responsible for getting them involved in legal action.
Jones' attempt to derail Goodell's extension, which came after Elliott was suspended over domestic violence allegations, led to a volley of threatening letters from lawyers for both sides.
After eventually relenting, Jones said after the owners meetings in December that he got what he wanted with an agreement to consider changes to the power of the commissioner's role through the league's constitution. Jones denied that his attempt to scuttle the contract was tied to Elliott's suspension, but made repeated references to Goodell's power to punish players.
Jones and the Cowboys were supportive of Elliott's lawsuit, which was led by the players' union and resulted in federal court hearings in three states over a span of two months. The suit eventually failed and Elliott served the suspension.
___
AP Pro Football Writer Schuyler Dixon contributed.
___
More AP NFL: http://www.pro32.ap.org and http://www.twitter.com/AP_NFL
___
For more NFL coverage: http://www.pro32.ap.org and http://www.twitter.com/AP_NFL