Another Dallas Cowboys player tests positive for COVID-19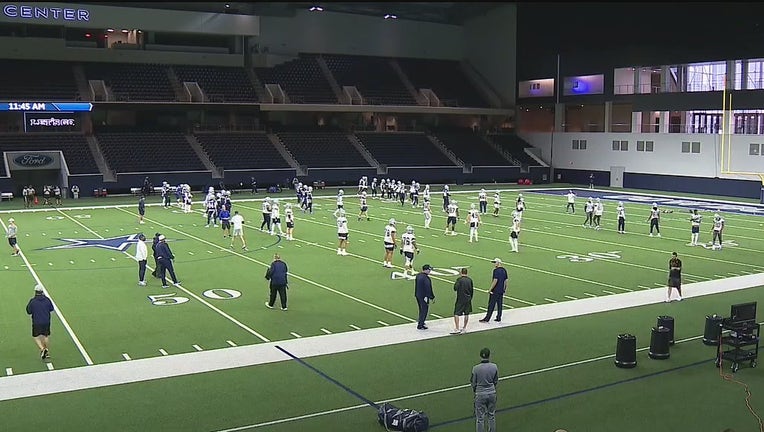 DALLAS - The Dallas Cowboys are adding yet another team member to the COVID-19 reserve list.
Rookie cornerback Nahshon Wright was placed on the list after reportedly testing positive for the virus on Tuesday.
He joins offensive tackle Terence Steele, head coach Mike McCarthy, offensive line coach Joe Philbin, assistant offensive line coach Jeff Blasko, strength and conditioning coach Harold Nash and three other coaching assistants who are already listed.
McCarthy said he is vaccinated but tested positive at the team facility during one of the regularly scheduled tests which happen twice a week. He has only mild symptoms.
RELATED: Cowboys coach Mike McCarthy, several others will miss Thursday's game due to COVID-19
"Got a little bit of a scratchy throat I thought it was just really a carryover from the game. So, I mean, nothing. I guess it hasn't hit me yet when you talk to some of the other guys who have had it. Um so that's kind of where I am right now. This is real. This threat is very real. Please do everything you can to keep yourself and your family safe. I actually moved into the hotel Friday just because I felt like the it was amongst us at work particularly on the coaching staff. And I told them, 'Hey, if it can get me it can get anybody.' I would like to think that I was super cautious and careful but I just think it shows you the danger of the pandemic and the virus," he told reporters in a virtual interview.
Coach McCarthy said several of his family members have also tested positive for COVID-19 despite him moving into a hotel room a few days ago.
In total, 12 Cowboys players and coaches have missed time in the last two weeks because of COVID-19.
Receiver Amari Cooper will come off the list in time for Thursday night's game in New Orleans. McCarthy and the others will miss the game.
Defensive coordinator Dan Quinn will act as head coach. He spent more than five seasons as a head coach in Atlanta.
They infected coaches and players need two negative tests before they can return.