Angels off to best start since 1987 after 8-3 win at Texas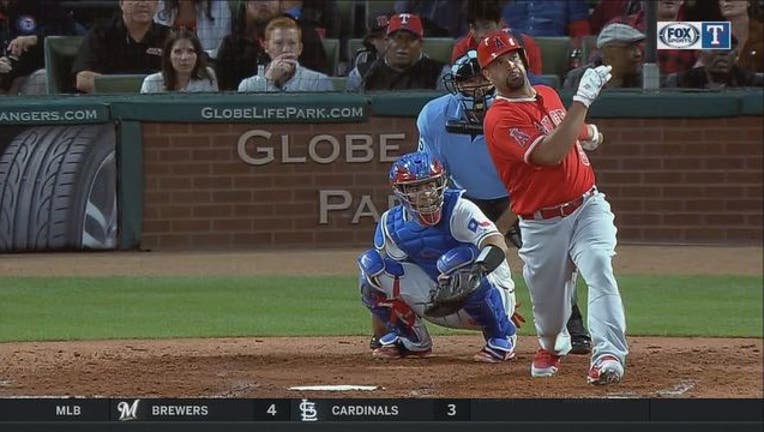 article
ARLINGTON, Texas (AP) - Martin Maldonado wasn't sure whether to slide head-first or feet-first after the throw beat him to home plate.
The Los Angeles Angels catcher got caught in between, and somehow managed to avoid the tag after dropping to both knees.
Albert Pujols hit his 616th career homer, Maldonado had two RBI singles along with his evasive scoring move and the Angels extended their best start in more than three decades with an 8-3 win at Texas on Monday night.
"Yeah, because I got stuck," Maldonado said, trying to explain what happened.
Home plate umpire Angel Hernandez was emphatic with his out call on the play in the sixth inning, but Maldonado immediately pointed to manager Mike Scioscia for a replay challenge.
"I wouldn't have believed it," Scioscia said. "But Martin did everything he could to avoid a tag and he got his hand in there."
Maldonado came home on Chris Young's double that ricocheted awkwardly off the wall down the left-field line and avoided the attempted tag by fellow catcher Robinson Chirinos, putting the Angels up 5-1.
The Angels are 8-3 for the first time since 1987, and fourth time in franchise history. Shohei Ohtani, the rookie two-way standout who was chosen AL Player of the Week, didn't play a day after striking out 12 in seven scoreless innings against Oakland.
Pujols led off the fourth with a line shot just inside the pole in left, his second homer this season and 1,923rd career RBI to break a tie with Jimmie Foxx for sole possession of ninth place on the all-time list. He later added a single for his 2,981st career hit.
"He's getting comfortable in the box," Scioscia said. "It's fun to watch when he's starting swinging like that."
Jose Alvarez (1-0) retired the only two batters he faced after Angels starter Garrett Richards walked the bases loaded with one out in the fifth. Richards struck out six and walked five in his 4 1/3 innings.
Doug Fister (1-2) struck out five with no walks while allowing three runs in his five innings.
"He had a good sinker," manager Jeff Banister said. "Looked like the one pitch to Pujols was left up, but felt like he was making some good pitches."
TRAINER'S ROOM
Angels: RHP JC Ramirez will miss the rest of this season because of a torn ulnar collateral ligament, and Tommy John surgery has been recommended. ... Scioscia said 2B Ian Kinsler "worked out well" before the game and was "very close." He hasn't played since the season opener because of a strained groin.
Rangers: 2B Rougned Odor left the game in the first because of a left hamstring strain sustained when trying to scramble back to first base on a short flyout to right. He tweaked the hamstring stretching for a throw at second base at Oakland on Thursday, but played all three games over the weekend against Toronto.
"At this point, do expect that he's going to miss some time," Banister said.
SHORT HOPS
Rangers 3B Adrian Beltre's single in the fourth was his 3,060th career hit, matching Craig Biggio for 23rd on the all-time list. ... Joey Gallo has 10 RBIs after driving in two runs for Texas. ... Elvis Andrus homered in the ninth for Texas, his second of the season.
CAN BE FIXED
While Richards knows the five walks aren't appealing, he said the problem is mechanical and fixable.
"Obviously my stuff is there. I'm not worried about that," he said. "It's just smoothing out some delivery issues that I have, better direction to the plate, better timing, my arm's dragging a little bit so everything's kind of up in the zone ... It's rhythm, tempo and timing. I'm just a hair off right now."
UP NEXT
Ohtani could return to the lineup. He's homered in three straight games as a designated hitter. Both teams start 1-0 left-handers, Tyler Skaggs for the Angels and Martin Perez for the Rangers.
___
More AP baseball: https://apnews.com/tag/MLBbaseball