Allen has 4 TD passes to lead Aggies over Nevada 44-27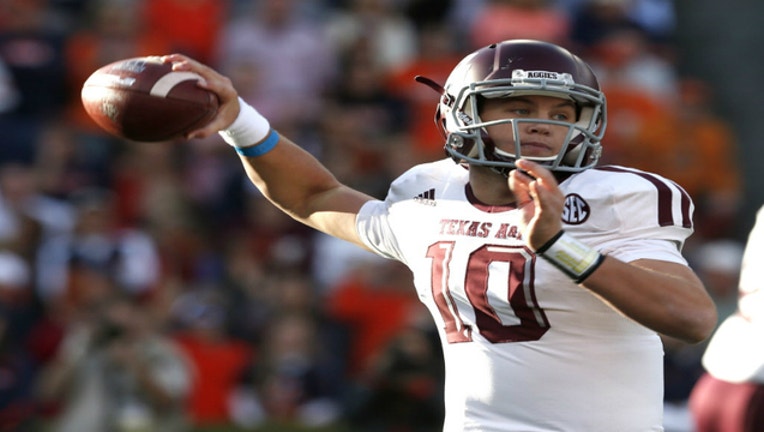 COLLEGE STATION, Texas (AP) — Texas A&M was already looking ahead to Arkansas just minutes after wrapping up nonconference play Saturday with another convincing victory.
Kyle Allen threw four touchdown passes and ran for another score as the No. 17 Aggies pulled away to beat Nevada 44-27.
Though Texas A&M (3-0) came away with a decisive win, coach Kevin Sumlin wasn't pleased with his team's two turnovers with the SEC opener against the Razorbacks up next. Still, he likes where the team is heading.
"If you win the way we've won the last two weeks and say we can get better ... to me that's encouraging," Sumlin said.
Allen was happy to be done with non-conference play.
"I think everyone's hungry for SEC play," he said. "I know I am ... we're ready to play some big-time games."
It was the 19th straight non-conference victory for the Aggies, the longest active streak in the Football Bowl Subdivision.
The Aggies were up by four early in the second quarter before scoring 17 straight points, with two touchdown catches by Josh Reynolds, to make it 31-10 early in the third. The second one came soon after an interception by Donovan Wilson on the first play of the second half.
Tyler Stewart threw for 206 yards with two touchdowns and an interception for Nevada (1-2).
The second meeting between the teams and first since 1950 matched Sumlin against Nevada coach Brian Polian, who was an assistant on his staff in 2012.
"I'm glad it's over," Sumlin said. "I don't want to coach against friends. It's not fun."
Polian was on good behavior Saturday after he was fined $10,000 by his own school this week for being called for two unsportsmanlike conduct penalties last week in a 44-20 loss to Arizona. Athletic director Doug Knuth called the third-year coach's behavior unacceptable.
Texas A&M's aggressive defense, led by new defensive coordinator John Chavis, piled up five sacks and 16 tackles for losses. A highlight of those takedowns came when Daylon Mack busted through the line to level James Butler for a 5-yard loss and Myles Garrett tied a career-high with 3 1/2 sacks and had a career-best four tackles for losses.
Garrett had a tough week following the removal of his wisdom teeth on Sunday.
"Putting a helmet on is a real chore when you've had your wisdom teeth taken out," Sumlin said. "What a tough guy. I was glad he could get it on today because he made a difference for us."
Hassan Henderson had a 27-yard reception for a touchdown for Nevada that cut the lead to 38-20 late in the third. The Wolf Pack got within 41-27 after a 9-yard pass to Jackson with less than 10 minutes remaining. Nevada recovered an onside kick after that score, but Garrett sacked Stewart on consecutive plays to force a punt on the ensuing possession.
"When it's crunch time and somebody has to take over I have to do it," Garrett said.
A&M freshman Christian Kirk finished with six receptions for a career-high 120 yards and Tra Carson had 22 carries for 137 yards, but also fumbled in the red zone in the second quarter.
Butler had 17 carries for 107 yards for Nevada.
The Aggies took a 7-0 lead on a 1-yard touchdown run by Allen on their first drive. Their offense stalled on the next two drives and they had to punt on both of them. Allen was penalized for intentional grounding on the first one when he mishandled the snap and threw the ball away.
Nevada gambled by going for it on fourth-and-1 after that and it paid off when Don Jackson ran 31 yards for a touchdown to tie it at 7-7.
Allen, who finished with 270 yards passing, was sacked and fumbled two plays later and Matthew Lyons recovered and ran it into the end zone for what looked like a touchdown. But the Aggies got a break when Nevada was called for defensive holding on the play and A&M got the ball back.
"That was a swing," Polian said. "I didn't see the call. I'm getting out of the business of getting upset with the officials. That does me no good. I'm sure it was a hold."
Allen regrouped to continue the drive which was capped by a 10-yard touchdown reception by Speedy Noil that put A&M on top 14-7. It was the first touchdown of the season for Noil, who had been slowed by injuries in the first two games.
A 28-yard field goal by Brent Zuzo got Nevada within 14-10 early in the second quarter.
Brandon Williams, had three tackles and broke up a pass on defense and had one carry for three yards to become the first A&M player to play on both offense and defense in the same game since two players did it in 1968.
___
AP college football website: www.collegefootball.ap.org