Alabama slows Trae Young, stuns No. 12 Oklahoma 80-73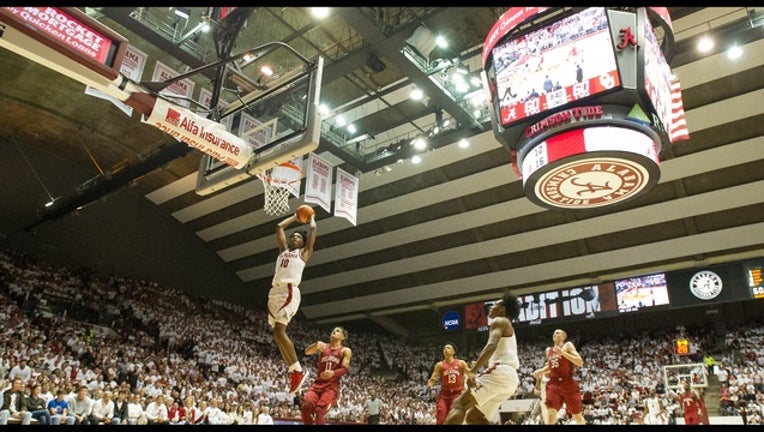 TUSCALOOSA, Ala. (AP) - Alabama freshman Collin Sexton scored 18 points, Herbert Jones added 14 and the Crimson Tide upset No. 12 Oklahoma 80-73 on Saturday in the Big 12/SEC Challenge.
Alabama (14-7) did a terrific defensive job on Oklahoma freshman sensation Trae Young, who scored just 17 points on 6-of-17 shooting from the field. It was only the second time this season Young - who came into the game leading the nation with more than 30 points per game - was held under 20 points.
Oklahoma (15-5) trailed by six at halftime but rallied to take a 60-55 lead with 11 minutes remaining. Alabama responded with the next 13 points for a 68-60 advantage it wouldn't relinquish.
The much-anticipated duel between star guards Young and Sexton took a little while to develop, though there were some good moments in the first half.
Young needed more than 11 minutes to get free for his first basket of the game on a 10-foot floater in the lane, but Sexton responded almost immediately with a 3-pointer. A few minutes later, Sexton's dunk in transition was followed by a Young 3-pointer 15 seconds later.
Alabama pushed its early lead to 32-19 with seven minutes left in the first half, but Oklahoma rallied to cut the advantage to 41-35 by halftime.
Young's 17 points were his fewest since scoring 15 points in the season opener against Omaha. Khadeem Lattin led the Sooners with 18 points while Rashard Odomes added 15.
BIG PICTURE
Oklahoma: The Sooners were coming off a huge win against Kansas but couldn't keep the momentum against Alabama's stingy defense. Young struggled to find open looks all afternoon, and the rest of Oklahoma's offense couldn't make up the difference.
Alabama: It's a really nice win for the Crimson Tide, which were reeling after a 12-point road loss to Ole Miss earlier this week. Sexton had a solid game for the Tide and the overall defense was impressive.
UP NEXT
Oklahoma returns home to face Baylor on Tuesday night.
Alabama hosts Missouri on Wednesday night.
___
More AP college basketball coverage: www.collegebasketball.ap.org and www.twitter.com/AP_Top25