AL-best Rangers lose 11-2 as Darvish struggles again vs A's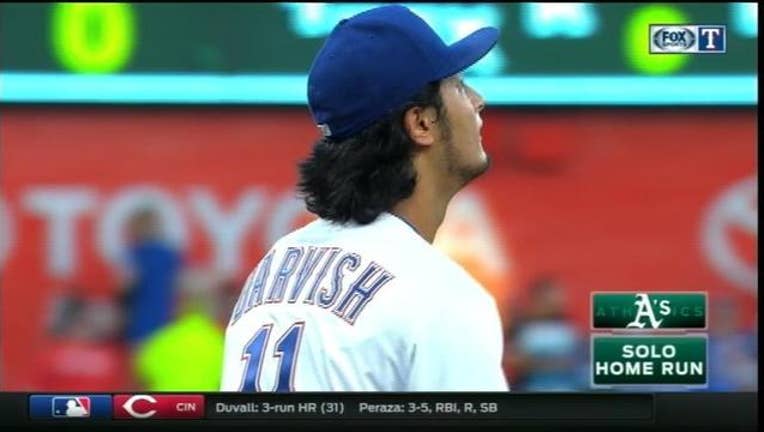 ARLINGTON, Texas (AP) — Joey Wendle led off the game with his first major league homer for Oakland, Marcus Semien also went deep against Yu Darvish and the Athletics beat the AL-best Texas Rangers 11-2 on Saturday night.
Darvish (5-5) matched a career high by allowing seven runs while pitching only five innings. He struck out eight, but walked four batters — all of those runners scored.
Carlos Gomez homered for the Rangers (88-61), who began the day with a magic number of six for closing out Seattle in the AL West.
Raul Alcantara (1-1), among five A's pitchers to make their MLB debuts this season with a start, had three strikeouts without a walk. He pitched into the sixth, when he allowed a two-run homer to Gomez.
Danny Valencia added another three-run homer for the A's, his 17th, in the eighth off Dario Alvarez.
Darvish's ninth career loss to the A's came a night after All-Star left-hander Cole Hamels struggled again for the Rangers, in a game Texas rallied to win with two outs in the ninth. No other MLB team has beaten Darvish more than four times.
When Darvish last faced Oakland — a day after his 30th birthday exactly a month ago Saturday — he struck out nine and walked one in seven innings in a 6-2 victory. Before that, he had gone 0-8 in 10 starts against the A's since winning against them more than four years earlier in only his eighth game after coming from Japan.
Wendle, a rookie second baseman in his 15th career game, hit a 1-1 pitch into the left-field seats. His sacrifice fly in the second made it 4-0.
Darvish walked the bases loaded to start the second before Bruce Maxwell's two-run single.
Semien's 26th homer, with two on and two outs in the fifth, put the A's up 7-0.
Elvis Andrus led off the Texas sixth with a single, and on the next pitch Gomez hit his 11th homer this season, his sixth in 22 games with Texas.
TRAINER'S ROOM
Athletics: RHP Sonny Gray, out since Aug. 7 with a strained right forearm, threw all of his pitches during a 31-pitch bullpen session. He will get a couple of days off before another bullpen, and could still potentially pitch in another game this season.
Rangers: DH/1B Prince Fielder was in the dugout for the first time since announcing last month that he couldn't play again after a second spinal fusion surgery. He got his neck brace off just more than a week ago.
UP NEXT
Athletics: Since eight scoreless innings in his first start for Oakland, lefty Ross Detwiler is 1-3 with a 5.25 ERA his last seven games (six starts).
Rangers: Colby Lewis (6-2, 3.31) makes his only his second start since a two-month stint on the DL with a strained right lat. The right-hander allowed three runs, all on solo homers, in 5 1-3 innings at the Los Angeles Angels last Sunday.