Adams, Vital lead UConn to a 63-52 win over SMU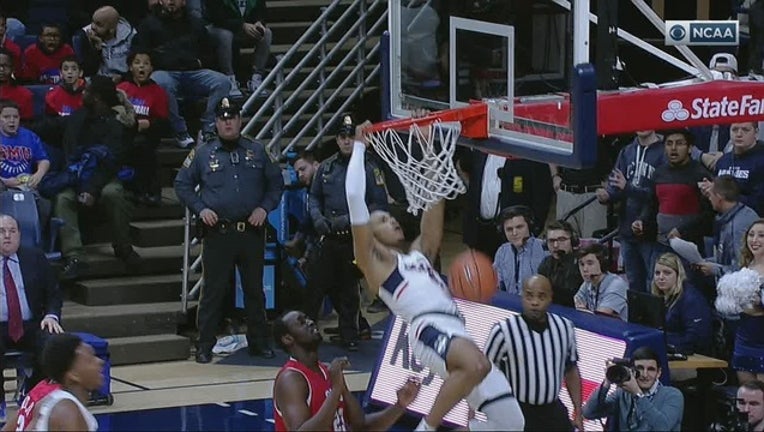 article
STORRS, Conn. (AP) - Christian Vital scored 20 points and Jalen Adams added 18 to lead UConn to a 63-52 win over SMU on Thursday night.
Josh Carlton added a season-high 12 rebounds for the Huskies (11-9, 4-3), who used a 19-4 second-half run to secure much-needed conference win after losing back-to-back games by at least 20 points.
Shake Milton scored 18 points and Jimmy Whitt had 14 for SMU, (14-7, 4-4) which was coming off wins over No. 17 Wichita State and Tulane.
UConn led by three points at half.
But 3-point play by Whitt tied the game and his jumper gave SMU a 30-28 lead, its first since 8-5.
It was 40-36 SMU, when a drive by Adams led to a 3-point play that sparked the Huskie big run. UConn scored 10 straight points to take a 46-40 lead.
The Huskies outscored SMU 21-5 off turnovers, despite getting just one more giveaway (10-9).
BIG PICTURE
SMU: The Mustangs dressed just eight scholarship players. They lost second-leading scorer and leading rebounder Jarrey Foster to a left knee injury in their upset win at Wichita State last week. Everett Ray, a 6-7 freshman, also went out for the season when he broke a foot warming up for Saturday's game against Tulane.
UConn: The Huskies found out Thursday that they had lost their appeal to have forward Sidney Wilson declared eligible this season. The highly touted 6-foot-7 freshman transferred to UConn after briefly attending summer school at St. John's. Wilson will have four year's' of eligibility beginning next season and will be allowed to continue practicing with the team. UConn also played Thursday without Terry Larrier, who underwent surgery this week to repair a fractured sinus wall. The 6-8 swingman, who had been averaging just under 15 points a game, is expected to miss at least a week.
UP NEXT
SMU: The Mustangs head home for a Sunday game against East Carolina
UConn: The Huskies travel to Philadelphia for a game on Sunday against Temple
___
More AP college basketball: www.collegebasketball.ap.org and https://twitter.com/AP_Top25