Family of missing Dallas woman left with questions after finding her body days after crash
DALLAS - There are very few details about the mysterious death of a mother in Dallas   whose body was found over the weekend.
Her SUV was found crashed out. Her family says her eyeglasses and her phone were in there, but her body wasn't.  And it wasn't where the family thinks she could have been thrown by the accident's impact either. They have a lot of questions, and so do investigators.
Yesica Martínez was a wife and a mother to a 1-year-old girl. Her family had been searching for her since Friday. Their search ended Sunday morning.
"My sister was the most amazing person," Martinez's sister, Adriana Diaz, said. "She didn't deserve this."
There are many unknowns surrounding the 25-year-old's death.
"We seen her body laying in that ditch over there," Martinez's brother, Dario Manzo, said. "I tried to ask questions. Nobody had answers for me."
Martinez started a waitressing job Thursday evening. Her husband, Mario Morales, said she messaged him while coming home, but never made it home. "This is just a dream. I'm going to wake up and she's going to come home and we're going to be happy," Morales said.
The Dallas County Sheriff's Department said a 911 call came in at about 1 a.m. about the crash.
Martinez's family said they were told she was heard arguing with a man on the 911 call.
"But you could hear her asking for help," Manzo added.
Her family said her phone and glasses were found in her wrecked SUV.
"She can't see without her glasses. There was no reason for her to be like, 'Oh, let me set my glasses down so I can walk around blind.' That's just not logical for her to do," Diaz said.
"And we told them, given the circumstances of what happened, we didn't believe she just left," Morales said.
Sunday, Martinez's family found her body behind a fence that first responders had to cut through.
The fence is across several lanes of the North Stemmons Freeway southbound service road, and below the freeway where her SUV crashed.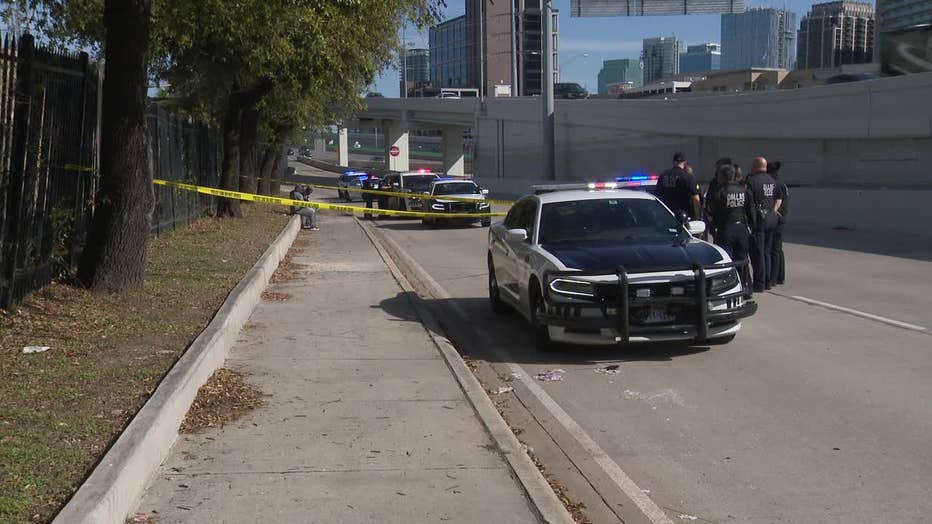 "We have been looking for three days, non-stop," Diaz added.
Martinez' husband called 911, looking for her early that morning, according to police. He filed a missing person's report that same day.
Loved ones searched for her throughout the weekend.
"We seen her body laying in that ditch over there," Manzo said.
Martínez' family spoke with FOX 4 Sunday morning hours after they found her body inside the fence surrounding a vacant property that was once the Landmark Cabana Motor Hotel.
Martinez crashed her SUV along the freeway. Somehow, her body ended up across these three lanes of the service road and in a ditch behind this fence.
Her family right now is wondering how did she end up behind this fence after crashing her SUV.
The abandoned property has security guards working there who told FOX 4 people sometimes find ways to get inside, but they work to keep the perimeter secure.
Martinez does not have a criminal history, according to a records search. Her family is confused and heartbroken.
The Dallas Police Department said it's being investigated as an unexplained death. 
"It seems like a nightmare," Diaz said.
Her family has questions for law enforcement.
"What did they know? What did they do?" Manzo said.
And they know someone out there knows what happened.
"Any information helps," Manzo added.
"She was the one I went to for everything, even though she was my little sister," Diaz said of her sister.