Woman charged with intoxication manslaughter after pedestrian struck, killed in Uptown Dallas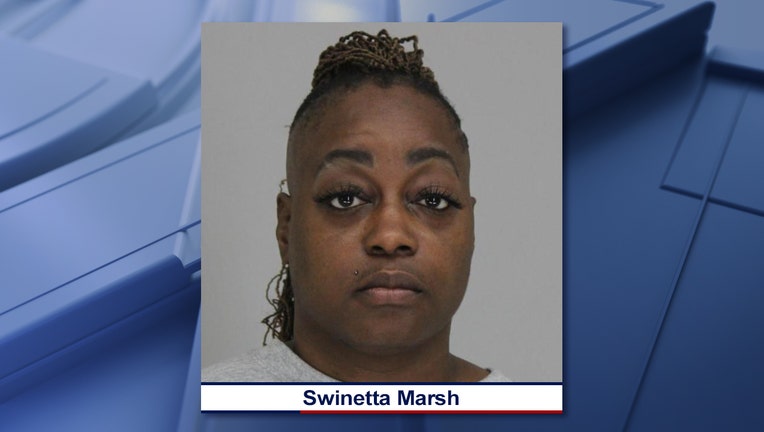 DALLAS - A 42-year-old Oak Cliff woman has been charged with intoxication manslaughter after police said she struck and killed a pedestrian who was crossing a busy street in Uptown Dallas on Sunday.
According to police, the crash happened just before 5 p.m., as a woman was crossing the road at Cedar Springs and Routh.
As she was in the crosswalk, police said Swinetta Marsh was driving at a high rate of speed in a Polaris Slingshot XL, and struck the pedestrian.
RELATED: Pedestrian killed after being struck by suspected drunk driver in Dallas
Police said Marsh took off from the crash scene and hit another car two blocks away, where she was finally arrested.
She told police she was out celebrating her birthday.
The bars and restaurants around were packed with people at that time. Many of them witnessed the horrible seen unfold.
Waiting at the Routh Street traffic light, Krysten Brooks - who spoke to FOX 4 by phone – said Marsh went flying by.
"It was extremely fast. Faster than I would ever expect you to be able to drive on that road, especially because it's always busy," she said.
After hitting the woman, police said Marsh kept going, crashing into another car two blocks down at Maple Avenue.
The arrest warrant affidavit says officers observed Marsh with "blood shot eyes and breath smelling of an alcoholic beverage."
She told them she'd been out celebrating her birthday at a McKinney Avenue restaurant, and had one drink -- a "chopin and tonic."
She later told police she'd had two, but gave one away.
Brooks described the moments when the pedestrian was struck.
"I feel like she almost touched the stop light she went so high in the air, it was so loud," she said. "She looked like a rag doll it was crazy."
Police said at one point during the field sobriety test, Marsh started giggling and stated, "I'm laughing because I'm not drunk."
She bonded out of jail Monday afternoon.
There was no answer at her last known address on Monday.
Bystanders said they tried to help the woman left in the street, but she later died at the hospital.
"I feel sorry for all of us, for her, and for everyone who was there," Brooks added.
The victim is believed to have been 55 to 60 years old.
She did not have any identification on her at the time, and the medical examiner has yet to release her name.
She is the 22nd traffic fatality in the city of Dallas so far this year.