North Texas health care and other essential workers trying their best to get to and from work safely
DALLAS - The icy roads are forcing health care and other essential workers in North Texas to find different ways to get to work.
For some, staying home is not really an option, and there isn't even a chance for them to go home in some cases.
Hospitals operate 24/7, no matter what the weather looks like.
Still, employees need to be able to get to work, which can be a challenge.
Some employees slept on cots overnight, while others took the DART rail.
Then there's the added challenges of feeding employees who have no choice but to go in.
Jaime Arriaga has a very important job.
He makes sure the DART platform located behind Parkland Hospital in Dallas is safe for pedestrians.
He's been working 16-hour days since the severe winter weather moved into North Texas.
"We're spreading ice melt, trying to treat these steps and walkways, keep people from slipping and falling," he said.
People like Priscilla Hernandez, who rely on the DART train to get to work.
"Just came over here to support everyone else," she said.
The non-clerical employee typically works at a clinic, but she was asked to report to Parkland earlier this week to help with registration while the clinic remained closed due to the winter weather.
Hernandez said she slept on a cot overnight.
"Everybody got blankets, toiletries, and everything. Everyone had a bed. It was nice," she recalled.
RELATED: Ice Storm Warning for Dallas-Fort Worth brings more traffic, infrastructure concerns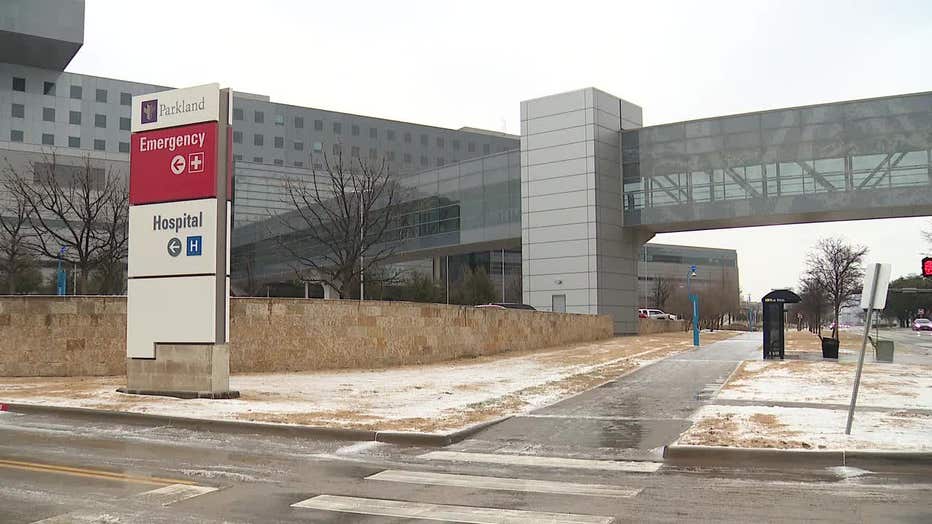 As FOX 4 crews drove around the medical district, they saw many crews braving the elements to clear the roads and sidewalks around the hospital.
Nearby, the staff at Sal's Pizza" was busy at work filling orders for areas hospitals.
Employees with UT Southwestern loaded up their van with a massive order.
It's not just hospitals needing food for their essential employees, as there were large orders for the jailhouse and for Southwest Airlines pilots in town for training.
"There were 18 that were supposed to be there, but only 11 showed up and they're coming in from all around the country," said Gary Perkins, with Southwest Airlines.
RELATED: North Texas cities report hundreds of crashes on icy roads
Employees in every field were hard at work Wednesday, even as winter weather brought most of North Texas to a standstill.
The few restaurants that have remained open the whole time may soon have to limit their options.
The manager at Sal's said he hasn't been able to get his usual delivery trucks, so supplies are starting to run low.