Widow of SMU officer killed in 2016 flood files wrongful death lawsuit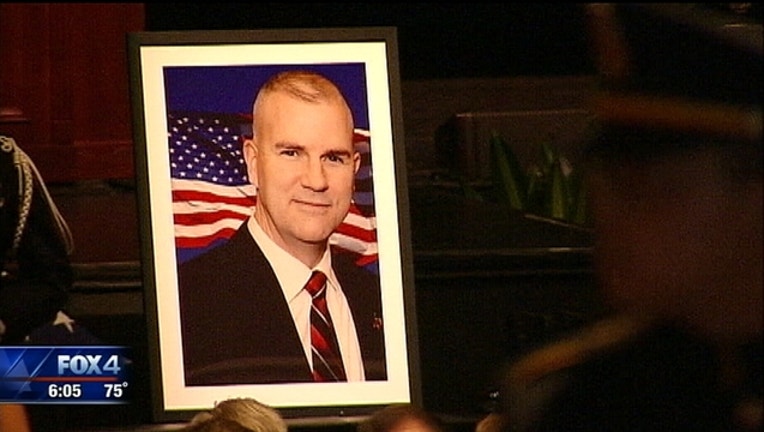 DALLAS - The widow of an SMU police officer killed by rising floodwaters in 2016 has filed a wrongful death lawsuit.
Mark McCullers' widow, Tiffany McCullers, filed the lawsuit last Thursday, the second anniversary of his death. It names Highland Park, the city of Dallas and the construction companies who were in charge of the site McCullers was guarding as defendants.
On the morning of July 5, 2016, Mark McCullers was working an off-duty security job at a home that was being renovated at the intersection of North Fitzhugh Avenue and St. Johns Drive, across the street from Turtle Creek.  
That night, a storm hit the area, causing the creek to rise above its banks and flood the construction site. Mark McCullers called 911 shortly after 1:30 a.m. saying water was rising and overtaking his vehicle. He was forced to try to escape out of the passenger window before he was swept away.
His body was found in the Trinity River in late August.
The lawsuit alleges that the home had a history of flooding. FEMA flood maps show that it lies within the 100-year floodplain. Two women died near the location in a 2006 flood. Highland Park and Dallas should have known this and taken appropriate measures to prevent further incidents, the lawsuit says.
It also accuses the homeowners, Roosevelt White Construction and Calloway & White Construction of negligence. That stems from the fact that the house had flooded before and Mark McCullers allegedly had not been warned of the danger when it says he was instructed to park his car at a location inside of the floodway.
Tiffany McCullers did not respond to requests for comment. According to the lawsuit, she is seeking damages, saying that her husband's death has caused her to suffer emotional pain and distress. She's also seeking financial damages.
She previously told FOX 4 that her health insurance stopped a month after her husband's body was discovered, forcing her to rely on Medicare.
The couple had six children together.
Roosevelt White and Calloway & White did not immediately respond to requests for comment. The two cities declined to do so.
In addition to the companies listed, 10 John Does were named as defendants.