Viral post claiming Town East Mall's impending closure is false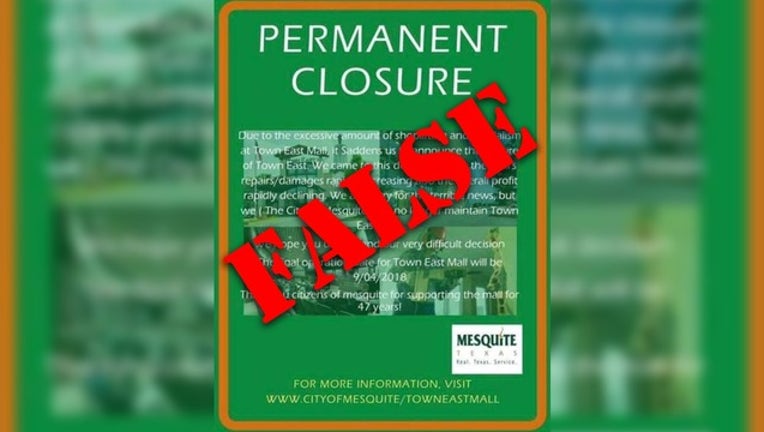 MESQUITE, Texas - Mesquite city officials say a viral post saying Town East Mall will be closing is completely false.
Earlier this week, a graphic began circulating on social media about the popular mall's closing.
"Due to the excessive amount of shoplifting and vandalism at Town East Mall, it saddens us to announce the closure of Town East," the post said. "We came to this decision due to the mall's repairs/damages increasing also the overall profit rapidly declining."
The post said the mall's final operation date would be September 4 and even featured the city of Mesquite's official logo.
After the post quickly spreading online, the city addressed the rumors, calling the post "fake news."
"This information is not only false, but did not come from the City of Mesquite," the city said in a statement. "Town East Mall is currently one of the top performing malls in the region with sales at an all-time high. A fifth major anchor, Dick's Sporting Goods, was recently added and the mall continues to attract new high-quality tenants, such as James Avery Artisan Jewelry. Please disregard the fabricated information."
Since the post has been published by several different individuals, it's unclear where the original post came from or who created it.