USPS looking to hire 1,500 people across North Texas for upcoming holiday season
DALLAS - The number of Americans applying for unemployment benefits fell last week to a new low point since the pandemic erupted, evidence that layoffs are declining as companies hold onto workers.
It's the first time jobless claims dropped 6,000 to 290,000 last week. The labor department says that is the third straight drop.
And while those numbers would normally be a sign of economic improvement, there are still some sections of the economy that are struggling.
Hiring has slowed in the past two months with a near-record number of open jobs. 
US unemployment claims fall to 290,000, a new pandemic low
Last week that 4.3 million Americans quit their jobs in August, now referred to as "The Great Resignation."
Amazon is looking to hire 6,500 seasonal workers in the DFW area.
The U.S. Postal Service is looking at filling about 1,500 positions in the metroplex. USPS says they are hiring more this year to help keep up with demand.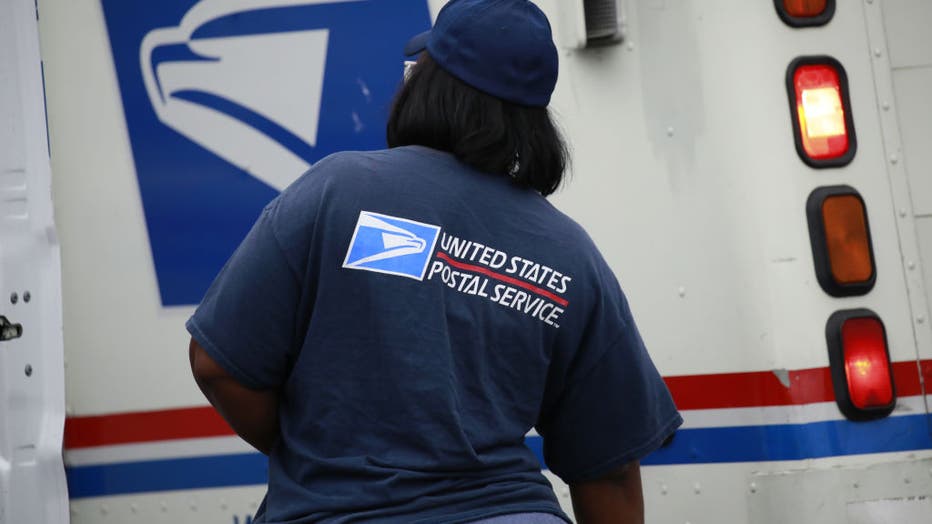 Photographer: Luke Sharrett/Bloomberg via Getty Images
USPS is preparing for yet another busy holiday season. Last year, USPS shipping was up 25%.
"We are better prepared this year, not just hiring alone. We're investing in some of our package processing equipment as well," explained Albert Ruiz with USPS. "We have about 112 new machines that are coming in throughout the country that that are going to help us to process packages a lot faster."
The postal service is looking to hire 40,000 seasonal positions nationwide, hosting a series of job fairs in Dallas. 
Other shipping companies, like Amazon, are also stepping up hiring with 150,000 seasonal positions open across the country. 
But there is concern about filling all these positions for the holiday season and how it might affect delivery dates. 
"I can't imagine that we're not going to have some really serious seasonal employment issues this year," said SMU economics professor Mike Davis. "I mean, we already know we're having huge labor shortages."
Economists and finance experts say there are many issues that might make the holiday shopping season more of a headache this year. 
"Some will say four or five million people who have just somehow dropped out of the workforce and we're not seeing them show up," Davis said. "At the same time, this is likely to be a big-spending season for people."
Earlier this month, USPS changed shipping standards for mail traveling longer distances with possible delays of one or two extra days. 
Other shipping services may be seeing issues as well. 
"I am really worried that the shipping season this year in the holidays is going to be the worst one we've ever seen," said David Sacco with the University of New Haven. "Somewhere between 60 and 80,000 truck drivers we're light right now, which is not just the ships being unloaded that's causing the issues. It's the unavailability of truck drivers to deliver those containers."
In the meantime, shoppers may have to shift their habits shop earlier and be more flexible.
"We might see people change their gift-giving patterns, change the kind of gifts they get," Sacco said. "And even when it comes to things that have to get delivery, maybe think about just shopping locally and getting what's available as opposed to ordering things that might not show up on time."
USPS has shipping deadlines as early as Dec. 15 to make it for the holidays.  They're also hosting several job fairs over the next three weeks.
Job Fair Info:
Thursday, Oct. 21, 2021
9:00 A.M. to 12:00 P.M.
Joe Pool Post Office
5521 S. Hampton Rd. Dallas, TX, 75241
Friday, Oct. 22, 2021
9:00 A.M. to 12:00 P.M.
Dallas Processing & Distribution Center
401 Tom Landry Hwy, Dallas, TX, 75260
Thursday, Oct. 28, 2021
9:00 A.M. to 12:00 P.M.
Spring Valley Post Office
13770 Noel Rd. Dallas, TX, 75240
Friday, Oct. 29, 2021
9:00 A.M. to 12:00 P.M.
Dallas Processing & Distribution Center 
401 Tom Landry Hwy, Dallas, TX, 75260
Thursday, Nov. 4, 2021
9:00 A.M. to 12:00 P.M.
Northwest Post Office
2341 W. Northwest Hwy. Dallas, TX, 75220
Friday, Nov. 5, 2021
9:00 A.M. to 12:00 P.M.
Dallas Processing & Distribution Center
401 Tom Landry Hwy, Dallas, TX, 75260
For more information, applicants can go to www.usps.com/careers.