Two suspects sought in Wal-Mart parking lot robbery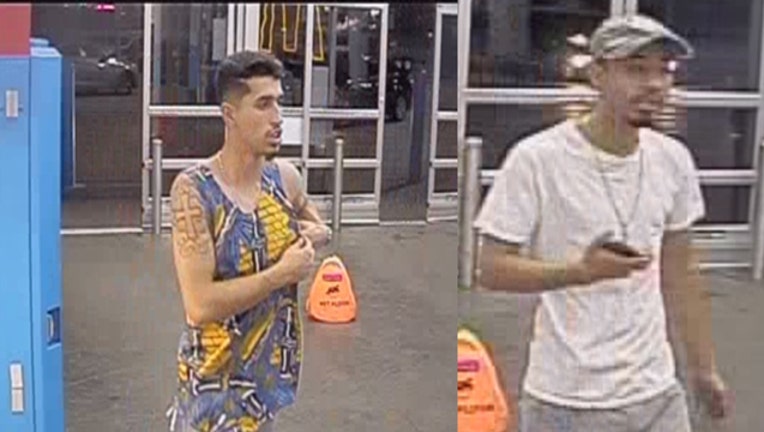 article
Police are searching for two suspects in a Wednesday morning armed robbery of a man at a Wal-Mart in Far North Dallas.
The robbery occurred at approximately 4:20 a.m. Wednesday in the parking lot of the Wal-Mart Superstore at 18121 Marsh Lane, near Frankford Road and the President George Bush Turnpike. Police caught the suspects on camera.
Police said two men, both with guns, approached the victim as he exited his car and demanded money. One man had a handgun and the other had a long gun. The men took the victim's property and left in a gray four-door sedan.
The first man is described as a Hispanic male, 20 to 22 years old, between 5-feet-7 and 5-feet-9-inches tall and weighing 150 to 160 pounds. He had short black hair, a mustache, goatee and tattoos on both upper harms. He wore a blue and yellow tank tops and jeans.
The second man is described as a Hispanic male, 17 to 22 years old, between 5-feet-6 and 5-feet-8 inches tall and weighing 130 to 150 pounds. He wore a white T-shirt, gray sweat pants and a hat. He had a mustache and goatee.
Police ask that anyone who recognizes either of the suspects or has any information on the robbery call Det. K. Schiver at (214) 671-3655. Callers who wish to remain anonymous can call Crime Stoppers at (214) 373-TIPS.