Two children, two adults found dead in Dallas hotel room
DALLAS - Four people were dead following a shooting at a Far North Dallas hotel on Tuesday afternoon.
Dallas police said two children, an adult male and adult female were found dead in a room at the Staybridge Suites in the 16000 block of Dallas Parkway, near Keller Springs Road and the Dallas North Tollway. Police received a call just after 3 p.m. from hotel staff.
Hotel managers told DPD that a reservation for the room the people were in ended on Tuesday but they remained in the room. When management tried to enter the room they heard a gunshot, backed off and called police.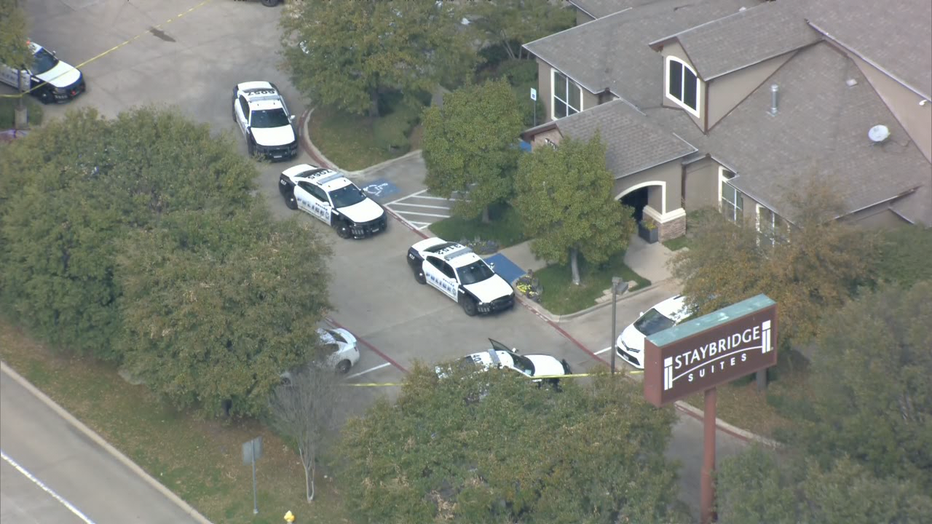 Police said they are investigating the possibility of a multiple murder-suicide, but declined to say if that's what happened. It's still unclear how the people were related or who fired the shots.
Dallas Police Chief Renee Hall briefed media on what they are investigating as a possible murder-suicide.
"We found four individuals who were deceased from obvious gunshot wounds," she said.
A 41-year-old man, a 31-year-old woman, a boy and a girl were all found dead with gunshot wounds inside a room they'd been staying in for days.
"Their room had expired today," Hall said.  "And as management tried to make entry into the room, they heard a gunshot. They backed away, and that's when they called us."
Police say management could not tell who fired that single shot behind the closed door. Police are not releasing their relationship to each other.
Devin Jackson has also been staying at the Suites but was not there at the time of the shooting Tuesday afternoon.
"I'm just now hearing it now that you said that," he said. "That's sad."
"According to witnesses, there were some sounds that sounded like gunshots earlier in the day. But no one could confirm," Hall said. "They thought that maybe it was backfire from traffic."
Chief Hall told reporters this is the hardest part of the job.
"To see lives lost. Especially children. It's a tough day," she said. "It's a tough day whenever we lose a life, and today is no different."
Police recovered a single gun from the room. Homicide detectives are talking to people at the extended stay hotel and reviewing evidence.