Trump supporters, protesters gather outside President's fundraiser, roundtable discussion in Dallas
DALLAS - Supporters of President Donald Trump and protesters were separated Thursday outside of Gateway Church in Dallas ahead of a fundraiser and a roundtable discussion with the President.
RELATED: Trump calls for increase in police funding during Dallas visit despite growing reform movement
Both sides were kept apart by barricades, but that didn't stop them from clashing. Both sides yelled at each other using bullhorns, arguing mainly about the use of the phrase Black Lives Matter and all lives matter.
The two groups were kept down the street from the church entrance as hundreds of church members lined up to get inside the roundtable discussion with local religious leaders and law enforcement officials.
Protestors blocked the residential intersection of Churchill way and Archdale Drive for eight minutes and 46 seconds to honor George Floyd.
The president was met with dozens of supporters.
"I want to show him support and know he has support out there," said Vickie Costa.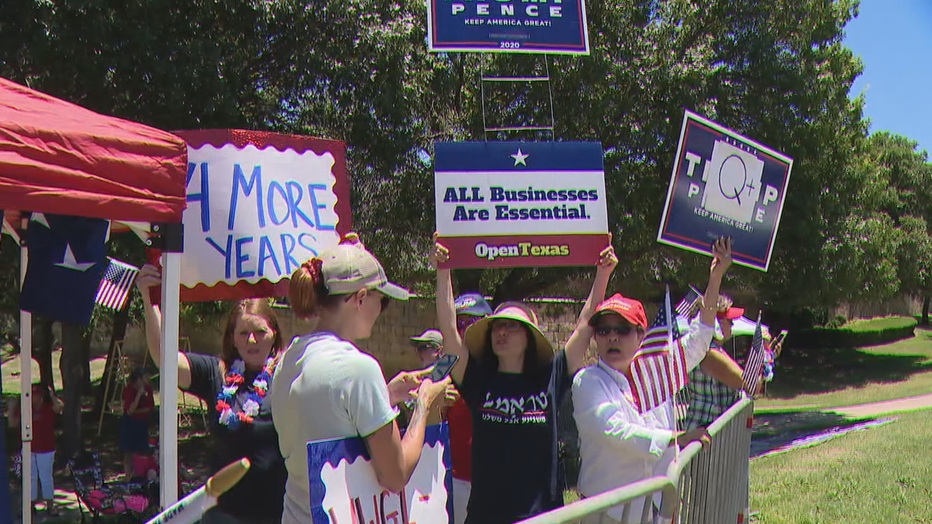 Trump was also met with hundreds of protestors.
"We should not be out here protesting for the lives of our own American citizens," said Joshua DuBose.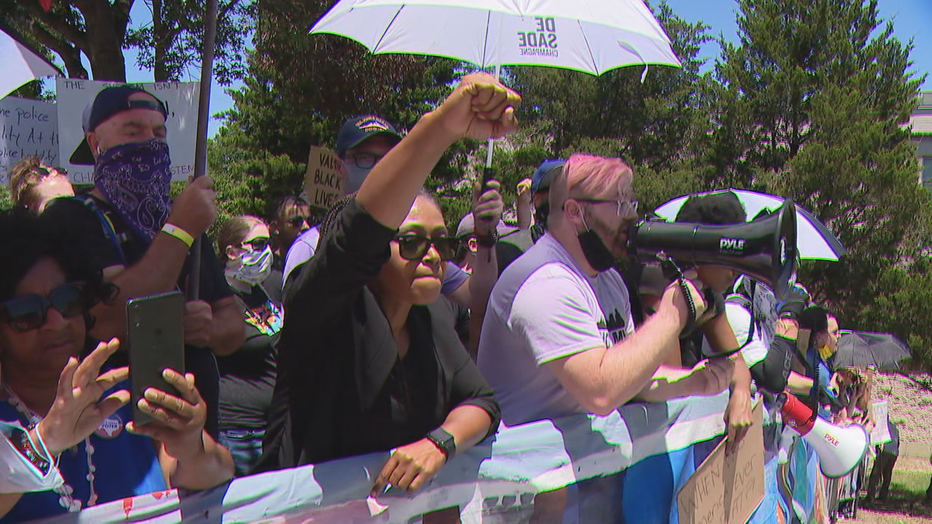 Many who want Trump to say "Black lives matter."
"I would love to hear him say that and then pass policies that reflect that," said Pastor Frederick Haynes with Friendship-West Baptist Church.
Haynes, who once served as an advisor to President Barack Obama, was not invited to the meeting with other faith leaders. He's calling for certain defunding of police departments.
"Public safety does not come through policing and controlling. It comes through the erasing and removal of food deserts, job deserts, business deserts," Haynes said. "When we do that, we're saying Black Lives Matter. When we don't do that, we're saying only policing those black lives matter."
Others are backing the blue.
"The fear that they live with and lack of respect, that's not the way we accomplish getting things done," said Sally Smith, a Trump supporter. "We came out here first of all to say that All Lives Matter. Blue Lives Matter, All Lives Matter and I'm out here to show that."
FOX 4's David Sentendrey asked for their reaction to the video of George Floyd being killed to people standing on the president's supporting side and ones standing on the protesting side.
"You don't put a knee on a guy's neck, particularly when you already have him subdued," said William Uhr, who was there to support the president.
"My first reaction when I first saw it was, it was honestly very empty," Dante Quin said. "I felt like I didn't feel anything."
Quinn says he felt empty. He went on to say that, later, it hit him and he realized he'd been numbing himself to certain social issues for years.
"But it hit me later once I really decided to feel what I was feeling," he said.
But some protestors didn't appreciate Quinn's comments.
"That does not represent us at all. Look at all these people out here and you interview him? You interview this? Shame! Shame! Shame! Shame!" a protestor said.
Especially when Quinn said there's courage on both sides of these debates.
"I see both sides. Once you see one side, then you see the other side," he said.
Organizers of the protest stepped in the middle of our interview and stopped it. They asked us to leave and directed some language at us we can't say on TV. They didn't feel Quinn was representing their level of frustration with social injustices.
We spoke with an organizer, offering to hear and broadcast her feelings but she declined. One gentleman who stepped in the middle of our interview agreed.
"It's not just about police brutality. I'm here also to talk about the economic wealth," said protester Daniel Kalleb. "How come black people are getting killed? And not only how come black people are getting killed, how come black people are getting jailed? How come black people's neighborhoods are defunded compared to all these white people?"
After the event at Gateway Church, the President went to a private fundraiser at a nearby residence, where the price tag for a ticket was nearly $600.000 a couple. That event was closed to press.
Trump departed Dallas Love Field shortly after 7 p.m.