Trump children woo donors and, campaign hopes, voters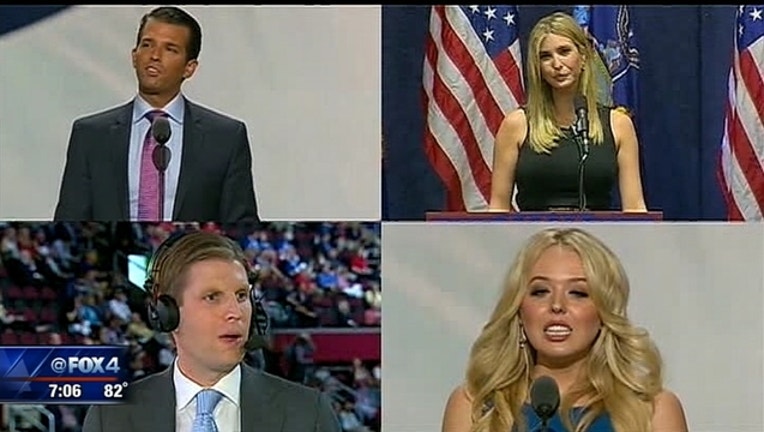 article
CLEVELAND (AP) — Sometimes the skeptical donors ask Andy Puzder what it is that he sees in Donald Trump, the controversial Republican presidential nominee for whom Puzder is raising money.
"The kids," Puzder says he often replies. "If he's such an evil villain, how do you explain the kids?"
The eldest four, Ivanka, Eric, Donald Jr. and Tiffany, are being introduced to the world with prime-time speaking slots this week at the Republican National Convention. Trump loyalists are thrilled to see them in the spotlight, predicting they will take the edge off a candidate known for biting remarks that have offended women and immigrants, among others.
Trump's fundraisers know this to be true; for them, the children have long been a touchstone.
"It's a good way to start a conversation because it's all positive," says Puzder, one of Trump's California finance chairmen and the chief executive of several fast-food chains. "Everybody knows you can't fake good children. You either have them or you don't."
Eric Trump is scheduled to speak Wednesday and Ivanka on Thursday, just before her father. Donald Trump Jr. and Tiffany Trump took the stage Tuesday night and delivered well-regarded remarks, with Tiffany telling a story of how her father encouraged her studies and Donald Jr. talking about growing up alongside his father at job sites and boardrooms.
"I've seen it time and time again: that look in his eyes when someone says it can't be done," he said. "I saw that look a little over a year ago when he was told he couldn't possibly succeed in politics.
"Yes, he did."
The eldest three hold executive positions at their father's New York-based real estate company, the Trump Organization. Tiffany graduated this year from the University of Pennsylvania.
"People think that one of Donald Trump's extraordinary qualities is the values and work ethic he has instilled in his kids," says Steven Mnuchin, Trump's national finance chairman.
Not only have they been some of Trump's most trusted political advisers, Mnuchin says, but they'll likely be some of his best fundraising surrogates, starting next week.
On Monday, Donald Trump Jr. is to be the featured guest at a Houston fundraiser, the first solo appearance at such an event by any of the Trump children.
An email promoting the dinner bills it as "a great opportunity to hear from Donald J. Trump's eldest son in a private setting on how we can rebuild our nation's trust in government."
"I think he will be a tremendous draw," says Mica Mosbacher, who is raising money for Trump and knows his children personally from the social scene in New York City, where she resides part-time. "Donors are anxious to get to know the family. They'll be swayed."
When Mosbacher chats with would-be donors, she says some ask her to explain how Trump would be good for the country's women. After all, Democrats are running frequent advertisements featuring Trump sound bites such as one where he says it's hard for a flat-chested woman to be a "10."
"I say, 'Look at his family. To his credit, the children are all hard-working, good people with good values, good principles,'" Mosbacher says. "They stop and think and say back to me, 'You know, you're right.' "
Ralph Reed, a longtime Republican operative and leader of the Faith and Freedom Coalition, says 10 years ago he viewed Trump as "a master self-promoter and marketer, and I really had no positive view beyond that."
Then he and his wife sat next to Ivanka Trump at a dinner in Park City, Utah.
"She was the most charming, gracious, intelligent, beautiful, polite young lady I had just about ever met," Reed said. "When we left, I said to my wife, 'Well, I'm probably going to have to reassess my opinion of Donald Trump.'"
He later shared the story with Trump, and the businessman told him, "'Ralph, you wouldn't believe how many people tell me that,'" Reed says.
Reed says donors — and anyone else who meets the children — are likely to be similarly moved. "For many people who have a desire to get behind and support their father, I think they will really help people overcome whatever hesitation it is that they might have."
For Republican donors who have little positive to say about Trump, the children are a safe topic.
Last month at a gathering of 2012 Republican nominee Mitt Romney's friends and top donors, John Rakolta Jr., was wringing his hands about whether he'd ever be able to support this year's nominee. Just days earlier, Trump had said a federal judge's Mexican heritage prevents him from fairly overseeing a lawsuit against him. (Trump launched his campaign by saying people entering the United States illegally from Mexico include rapists and criminals.)
Rakolta cringed when his friend Puzder, also there, approached. But Puzder sidestepped what could have been an uncomfortable conversation about "candidate Trump" by focusing on "father Trump."
"Can't argue that the kids are phenomenal," Rakolta said at the time, "He must be doing something right."
A few weeks later, Trump announced an expanded finance team. Among the new names: Rakolta.
___
Follow Julie Bykowicz on Twitter at: http://twitter.com/Bykowicz