Top pediatricians group recommends that all students wear masks in the classroom
DALLAS - The American Academy of Pediatrics says all students should wear a mask in the classroom when schools reopen this fall.
On Monday, the AAP released updated guidance for the 2021-2022 school year and for summer camps, given the number of recent COVID-19 outbreaks at camps.
The organization recommends that everyone over the age of 2 wear a mask in the classroom, regardless of their vaccination status. 
The guidance goes one step farther than the Centers for Disease Control's guidance, which recommends that masks be worn indoors by children who are not fully vaccinated. 
It's partly because most students are not yet eligible for a vaccine and partly because many schools will not be able to monitor who is and isn't vaccinated.
Pediatric health experts say COVID-19 is among the top ten causes of death in children and a growing concern with the more contagious delta variant.
"There are many children and others who cannot be vaccinated," said Sara Bode, MD, FAAP, chairperson elect of the AAP Council on School Health Executive Committee. "This is why it's important to use every tool in our toolkit to safeguard children from COVID-19. Universal masking is one of those tools and has been proven effective in protecting people against other respiratory diseases, as well."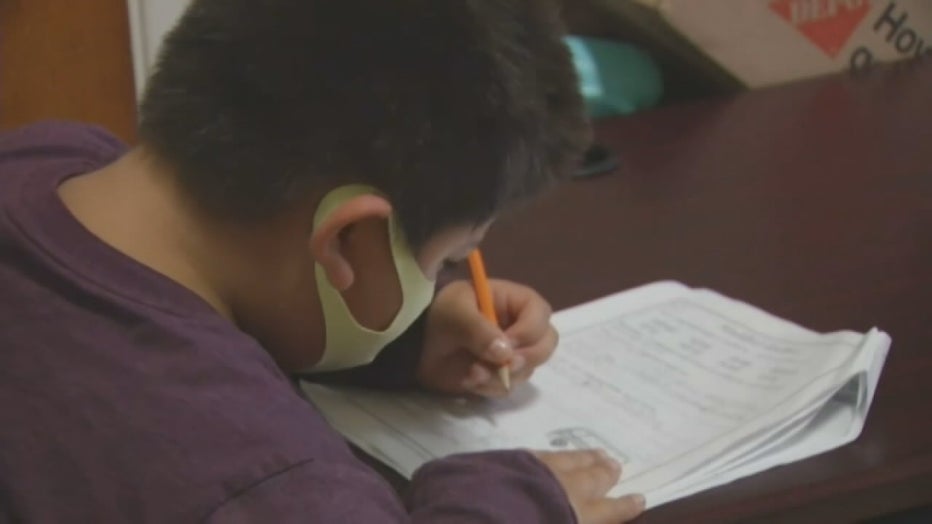 "While children thankfully don't get as seriously ill as adults on average, children can still get quite sick," said AAP President Dr. Lee Savio Beers. "We've had over 16,000 hospitalizations for children with COVID and that's probably an undercount."
Health experts say the latest numbers estimate only three in ten adolescents are fully vaccinated.
CDC Director Dr. Rochelle Walensky is hopeful the vaccine will be available to kids under 12 by mid to late fall. But because the majority of school-age kids won't be vaccinated by the time school starts, the AAP and the CDC recommend masks for all who are over 2 years old in schools. 
"There are two really important ways to keep them safe. The first is surround them by people who are fully vaccinated and therefore they will be protected," Dr. Walensky said. "And in the interim, when they're out in school, to have them wear masks when they're contacting people who can't be fully vaccinated like other young kids."
Texas Gov. Greg Abbott's executive order in June does not allow school districts in Texas to require masks. 
Teacher and staff unions, like Alliance AFT, say they will urge the governor to make an exception in light of the most recent health recommendations. 
Meantime, districts like Fort Worth ISD are doing what they can with other safety measures like social distancing.
Michael steinert, fwisd asst. Superintendent of student support services
"It's going to be a little bit more challenging with 100% of our kids in person," said Michael Steinert with Fort Worth ISD. "But we're still asking principals to be cognizant of not hosting large, tightly gathered situations if they can avoid it."
Fort Worth ISD will also continue to require students who test positive to quarantine for 14 days and those in close contact to quarantine for ten. 
"We developed a really comprehensive response protocol. We never had to shut down an entire school. We were able to quarantine and contact trace successfully," Steinert said. "So we feel good about if we do need to do that, we'll be in a good position to do so."
And like many other districts, Dallas ISD says they're continuing to encourage as many students and employees as possible to get vaccinated, with multiple vaccine clinics at schools throughout the summer. 
Even though Abbott issued the executive order, local pediatricians like Dr. Seth Kaplan are encouraging parents to continue the enforcement.
"The advice would be that anybody who is unvaccinated should still wear a mask in indoor settings including schools. And it may be easier to encourage everybody to wear a mask since we don't really have any way of telling if who is vaccinated and who is not," said Dr. Kaplan, the president of the Texas Pediatric Society.
The AAP is also strongly recommending in-person learning and urging schools to provide mental health support for its students because of the pandemic.
When it comes to summer camps, the AAP said there has been an increase in the number of COVID-19 cases linked to youth summer camps.
It is recommending that all campers wear masks when indoors and that camp directors follow current Centers for Disease Control guidelines for maintaining a healthy environment.