Thousands take part in All Out Trinity events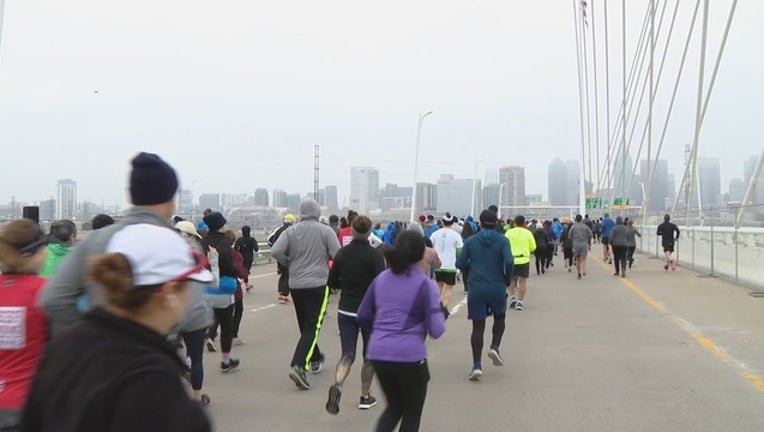 DALLAS - Thousands of people took part in "All Out Trinity" on Saturday.
The event offered a range of outdoor activities, including races and yoga on the bridge.
The event also served another purpose, other than getting people to be active.
From start to finish, runners were fueled by the cold air at the 15th annual "All Out Trinity" event.
"Well, once you get out here and get to moving around, it warms up a little bit," runner Jennifer Kennedy said.
Valerie Hooper and her husband, Michael, are avid runners and are used to the unpredictable weather here in Texas.
"I'm glad it's not wet, but actually I think cold is better for running," she said. "I'd rather run in the cold than when it's 100 degrees outside."
Thousands of runners took to the start line on Margaret Hunt Hill Bridge at 8 a.m.
The Trinity River Levee Run offered a 5K, 10K, and half marathon with a scenic route of downtown Dallas and the Trinity River.
Participants got to enjoy nature at its best.
"Nature just makes people happy, you know," Hooper added. "And the opportunity to bring people together to do that together, adds to that impact."
"This part of town has always been special to us, and also, the view. This is the best view," said runner Celina Molina.
Proceeds go toward supporting the work of the Trinity Park Conservancy.
This is the first year they co-produced the event with the city of Dallas, putting a spotlight on the future of Harold Simmons Park.
"200-acre park right in the middle of the city, something that we think can bring about really inclusive community development. At the same time, helping to improve public health, mental health, educational opportunities. Just getting outdoors," said Brent Brown, CEO/president of Trinity Park Conservancy.
The first 5K runner to cross the finish line clocked a time of 16 minutes.
Many people were cheering on the sidelines.
The "All Out Trinity" event had something for the entire family, including a market place and block party, the Dallas gravel ride, a bike rodeo for kids, and yoga on the bridge.
It was a bonding experience for Kennedy and her daughter.
"Oh, it's great. I'm glad she decided to join me, and so I'm looking forward to maybe her joining me again," she said.