Thanksgiving travel to resume to pre-pandemic levels, AAA says
DALLAS - AAA says travel is almost back to pre-pandemic levels. But airlines are still dealing with the effects of the pandemic, which have led to staffing shortages. 
The TSA says 93% of its employees are in compliance with today's deadline for the federal employee vaccination mandate or exemption. Therefore, the mandate will not impact holiday travel.
AAA says Wednesday and Sunday will be the busiest travel days. 
"There's been a record number of unruly passengers in us this year. AAA wants to remind people to get to the airport early and be courteous," said AAA spokesperson Daniel Armbruster. "If someone is in the middle and you are on the aisle give them the armrest, try to get along. Airline workers are trying to do their job."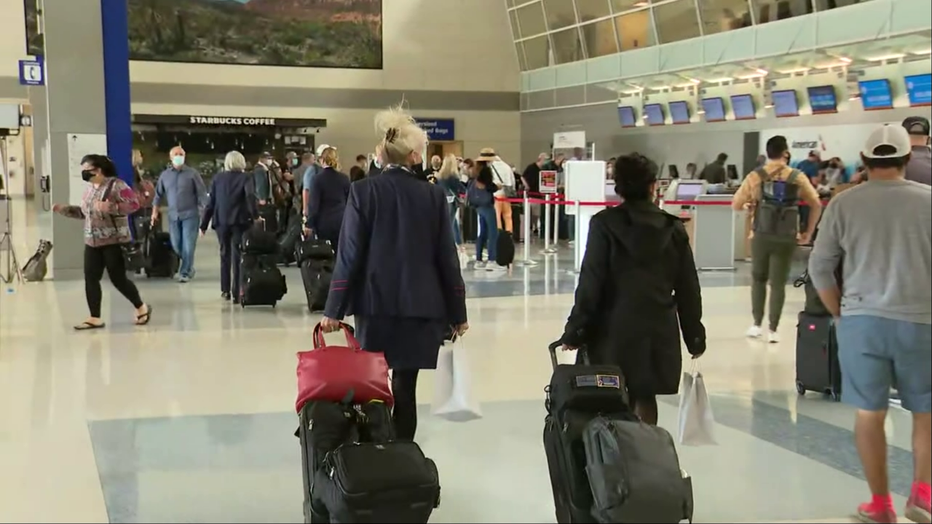 After weeks of flight cancelations earlier this month, American Airlines' chief operating officer told employees in a letter that it has the staff to meet customer demand. 
"On the staffing front, we are welcoming back many team members and aggressively onboarding many new hires as well," Armbruster said. "The reality is that the hiring environment has changed as a result of the pandemic, and we're pivoting to that new normal."
Airlines will be put to the test this holiday season.
Earlier this month and over the summer, mass cancellations by Southwest and American left passengers stranded across the country.
Each case was spurred by a single weather event that then cascaded in the days that followed.
Southwest's pilots' union says it's still short-staffed. Starting this week, the Dallas-based airline is now offering double time for open trips.
American Airlines tried something similar. Its pilots turned down extra pay.
"It's rare that a union rejects additional money, but it was going to cost us more in the long run. We need a long turn fix," said Dennis Tajer with the Allied Pilots Association.
However, Tajer says management needs to look at the bigger issue of scheduling. 
"That band-aid really wasn't going to handle the structural issue when the weather hits," he said.
The Allied Pilots Association also says the vaccine mandate will not affect staffing this holiday season, again blaming weather and scheduling. 
Airlines, who are federal contractors, had their vaccine deadline extended to Jan. 4.
The TSA says it's screened more than two million people for four days in a row. The agency is encouraging people to arrive early in case there are any delays.