Texas Senate committee discusses turning Abbott's vaccine mandate ban into law
DALLAS - Republican lawmakers in Texas are working to make good on Gov. Greg Abbott's request to turn his emergency order banning vaccine mandates into law.
A new bill filed in the State Senate aims to require companies to provide an exemption for people who don't want a vaccine for reasons as simple as someone's "conscience."
Medical professionals argued that vaccines work and can keep workers safe. Supporters of the bill argued mandates are a form of "discrimination."
There could be some tough decisions for companies if this becomes law.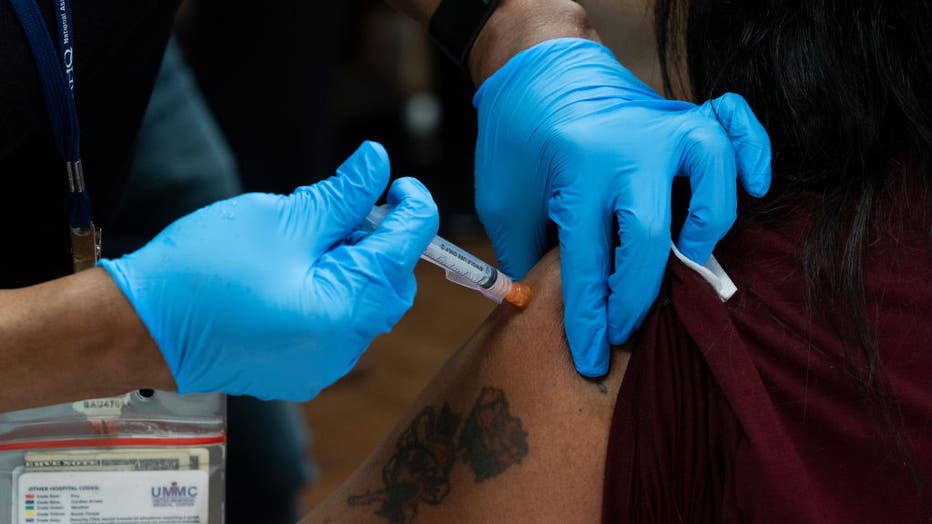 HOUSTON, TX - A health-care worker receives the Moderna COVID-19 vaccine at the United Memorial Medical Center on December 21, 2020 in Houston. (Photo by Go Nakamura/Getty Images)
With just days to go in this third special session, lawmakers in the Texas Senate took up a newly filed bill drafted two days ago as part of Gov. Abbott's plan announced Monday to expand a ban on vaccine mandates.
MORE: Gov. Abbott bans COVID-19 vaccine mandates by any 'entity in Texas'
Senate Bill 51 would ban COVID vaccine requirements in elementary and secondary schools. It would also ban public and private universities from requiring the vaccine.
It would also require employers to allow people to claim an exemption from a COVID-19 vaccine, whether that be a medical condition, religious belief or "reasons of conscience."
"We might say that we have a clash of rights," said State Sen. Bryan Hughes (R-Tyler). "Employers and business leaders have a right to run their businesses as they see fit. We also recognize that individuals have rights to make those important medical decisions."
Among those testifying were those with personal stories of how vaccine mandates have impacted them.
"While my career means everything to me, I'm an American and I'm a mother first," said Elizabeth Priestly Siffert, who is against the mandate. "I have the right to work and the right to feed my child."
There was also testimony from doctors representing the statewide medical associations who spent time defending the science that vaccines are effective and safe.
"As many studies as you have quoted in this direction, there are many studies in the opposite direction," said Dr. John Carlo with the Texas Medical Association. "I happen to believe based on what we've seen so far that transmission for COVID is reduced when you receive the vaccine."
But the discussion wasn't just about clashing ideologies. It was also about the state clashing with the feds.
President Biden ordered businesses with 100 or more employees to require they be vaccinated or tested for the virus regularly. It's a rule that would be enforced by OSHA, the agency tasked with setting safety standards in businesses. For federal contractors, there is no testing option.
Some fear healthcare providers could have to decide between funding and violating state law.
"It's really going to put hospitals between a rock and a hard place," said Steve Wohleb with the Texas Hospital Association. "Their choice is going to be don't comply with the federal mandate and potentially risk all Medicare funding and be kicked out of the Medicare program, which is game over and the doors close at that point, or institute the vaccine mandate and potentially be in violation of state law."
For now, North Texas-based American and Southwest Airlines state the vaccine mandates will stick because they're federal contractors.
The State Affairs Committee approved the bill Thursday night. It now heads to the full Senate.
The special session is set to end Tuesday.