Texas lawmakers approve 'campus carry' bill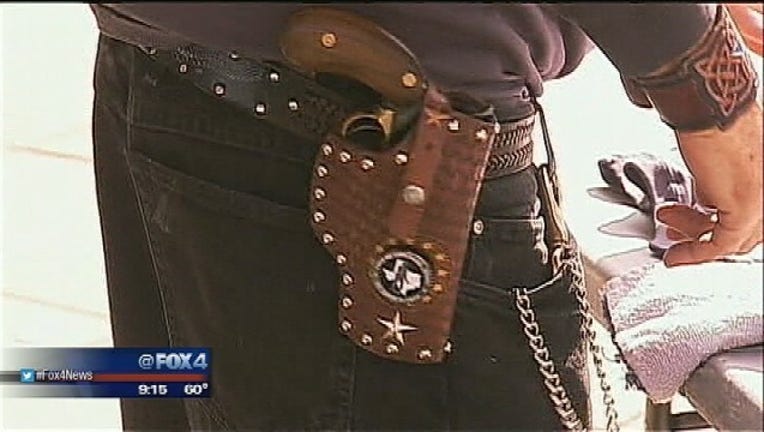 article
By PAUL J. WEBER and WILL WEISSERT
Associated Press
AUSTIN, Texas (AP) -- Guns, tax cuts and border security: new Republican Gov. Greg Abbott made those priorities his first six months on the job, and after the Texas Legislature ends Monday, he'll claim plenty of victories.
But not everyone is going home happy.
Democrats are bemoaning billions of dollars left unspent, tea party groups grumble that an overwhelming Republican majority wasn't conservative enough and frustrated university leaders resigned themselves to gun-packing students in their classrooms.
Passing any legislation on the last day requires near unanimous support, meaning activity is generally reserved for send-offs, both staid and tearful.
"I will not return," Rep. Jimmie Don Aycock, chairman of the powerful Education Committee, said Monday on the floor, announcing a surprise retirement as he choked back tears. When his colleagues surged forward to stand by his side, he grinned, tears falling: "That's going to make it that much harder, guys."
The farewell for the Killeen Republican came a day after powerful Houston Democratic Rep. Sylvester Turner, who spent more than a quarter-century in the Legislature, also formally announced his departure to run for mayor with a rousing but mournful address.
Abbott is marking the last day by publicly signing a bill that legalizes cannabis oil for epilepsy patients, which marijuana supporters consider a milestone in Texas, a state where proposals to even slightly relax pot laws have long been rebuffed.
Also on the way to Abbott's desk is a bill to legalize concealed handguns in college classrooms. It was the last major legislation approved by the House on Sunday and came over the objection of University of Texas System Chancellor William McRaven, the former Navy SEAL who directed the commando raid that killed Osama bin Laden.
"While it is not what we had hoped for, I respect the Legislature's decision," McRaven said.
Allowing concealed handguns in college classrooms, known as "campus carry," had repeatedly stalled under Republican majorities in Texas since a student killed 32 people at Virginia Tech in 2007. But last-minute concessions that give skittish university leaders leeway to carve out "gun-free zones" finally won the support to push the bill through.
Guns brought into college classrooms must remain out of sight. But most everywhere else in Texas, openly carrying a holstered gun in public will become legal in September, another measure approved this session.
Unlike the previous 14 years under Rick Perry, meanwhile, lawmakers aren't being marched into a special summer session to duke out contentious issues such as immigration and abortion.
"You can't really leave the session with disappointment," said House Speaker Joe Straus, a San Antonio Republican. "Thousands of bills are filed, and I'm guessing about 20 percent of those have passed. I'm grateful for a system that isn't too loose."
Easing gun restrictions gives newcomers Abbott and Republican Lt. Gov. Dan Patrick, the powerful Senate leader who used big-money donors as a private sounding board for legislation, the bragging rights of succeeding where their predecessors failed. But it also provided extra cover with tea party voters who helped put them in office.
Republicans will leave Austin with a long list of conservative victories: the biggest Texas tax cuts in a decade, doubling spending on security at the border with Mexico and weakening the power of judges and public corruption prosecutors in liberal Travis County.
But other proposed crackdowns on immigration went nowhere, and efforts to defy the U.S. Supreme Court if gay marriage is legalized this summer fizzled. Both were craved by the most conservative bloc of Republican voters and lawmakers but drew defiance from outnumbered Democrats and business groups.
Rep. Tan Parker, chairman of the House Republican Caucus, shrugged off calls that more could have been done: "Conservative Republicans can and should be proud of this record."
Watching those hot-button issues wither was of little consolation to Democrats, whose party was badly outnumbered in both chambers.
Health care was practically a nonissue and public schools only received a small bump in funding. When Abbott made boosting pre-K his first education initiative and dangled an extra $130 million in front of schools -- far less than what Texas cut from pre-K in 2011 while slashing the state budget to the bone -- Democrats considered that figure as a starting point.
Instead, the bottom line never budged.
"Certainly the funds are there for a variety of those things," said Democratic state Rep. Chris Turner. "But the political will wasn't there."