Tarrant County fire destroys 3 homes, 6 other structures
Several homes were destroyed, and other buildings were damages in a fast-growing fire in southern Tarrant County on Tuesday.
The Tarrant County fire marshal said the fire started in a kitchen where a woman was cooking and quickly spread to the home next door.
The neighborhood is between Kennedale and Mansfield, about 15 miles southeast of Fort Worth.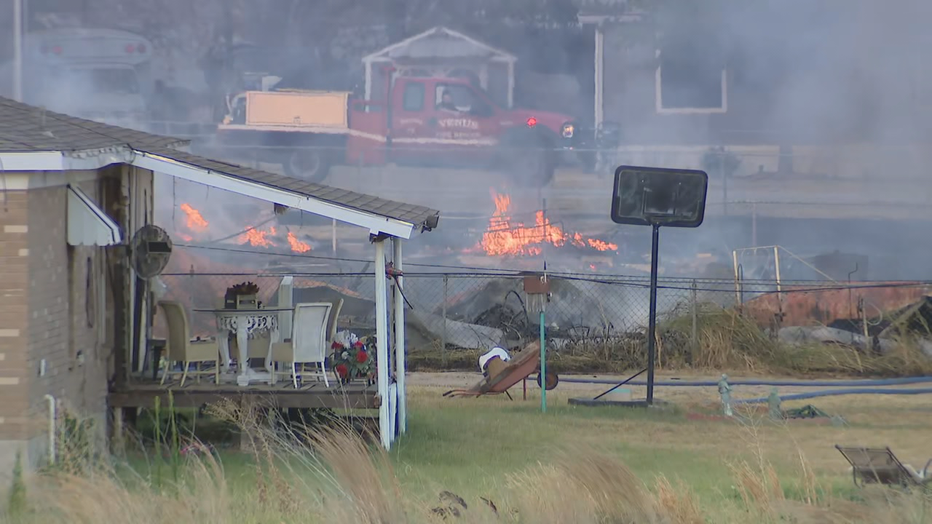 Balch Springs grass fire causes $6M in damage to homes
The dry grass and windy conditions fueled the flames across about 10 acres. A total of three homes and at least six other smaller structures were destroyed.
A woman who lost her home said she's lived in the neighborhood many years and is not sure what to do next.
"I don't have insurance. I can't replace any of that, nothing. I can't replace my house," Elizabeth Taylor said. "I really don't know what to say. I just looks like a war zone."
Hervey Duran said he escaped the flames, but his trailer is now barely standing.
"We all started panicking and telling everybody to get their stuff and go outside. By the time we knew it and got over here the house was on fire, the trailer was on fire. It wasn't 15 minutes that it got to that point," he said. "You could see the fire on the grass coming towards us. You thought maybe with a water hose you could stop it but you see it go towards the other way where the wind was going."
The fire marshal said the extreme heat was a concern for fire crews. They were rotating firefighters to prevent them from overheating.
The Red Cross is assisting neighbors who need help.