Southwest Chipotle Salad with Fresh Corn Salsa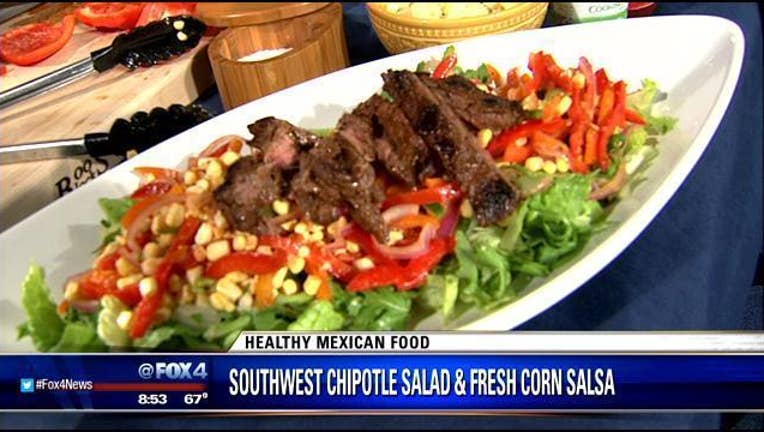 article
Ingredients
1 clove garlic, minced
1/2 lime, juiced
1/4 cup chipotle Mexican cooking sauce

1 pound flank steak, sliced very thin against the grain
Corn Salsa:
2 ears corn, cut from cob
1 small red bell pepper
1 small orange bell pepper
1 fresh jalapeño pepper, seeded and chopped
1/4 cup red onion, chopped
1 clove garlic, minced
1/2 lime, juiced
2 tablespoons chipotle Mexican cooking sauce
2 tablespoons olive oil, divided
1 head romaine lettuce - torn, washed, and dried
Garnish:
Pepper Jack cheese
Sliced colored pepper rings


Directions
1. In a bowl, mix together 1 clove garlic, juice of 1/2 lime, and 1/4 cup cooking sauce. Pour over the sliced meat in a bowl and toss to coat. Marinate in refrigerator at least 2 hours.
2. In another bowl combine corn, bell peppers, jalapeño pepper, red onion, 1 clove garlic, juice of 1/2 lime, and 2 tablespoons cooking sauce; mix gently. Refrigerate 1 to 2 hours to allow flavors to blend.
3. Heat 1 tablespoon olive oil in a heavy skillet over high heat. With tongs, add half the meat to pan in a single layer; do not stir for at least a minute. Turn meat and cook for another 30 seconds. Remove to a clean plate.
4. Repeat with 1 more tablespoon olive oil and other half of meat, allowing pan to get very hot again first.
5. Top lettuce with meat mixture, corn salsa, cheese, pepper rings and any other toppings you desire. You can serve with your favorite salad dressing, but this salad is so packed with flavor that none is needed.