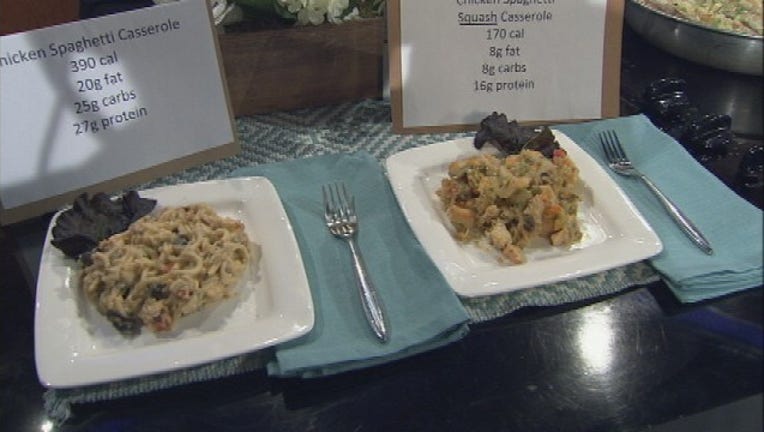 article
Ingredients
1 spaghetti squash to make 2 cups shredded squash
½ cup water
2 tbsp butter or olive oil
1 cup diced celery
1 cup diced onion
1 cup diced bell pepper (any or all colors)
2 tbsp flour (Gluten free or regular)
2 cups diced cooked chicken breast
1 tsp chicken bouillon
½ teaspoon pepper
10.75 oz condensed cream of mushroom soup, undiluted
1 cup 2% reduced fat cheddar cheese, shredded, divided
2 - 8x8 pans

Directions
1. Preheat oven to 350 F
2. To cook the spaghetti squash: Rinse and dry the squash. Cut in half, remove inner seeds and place face down on a large microwave safe dish in about ½ cup of water. Microwave for 15-20 minutes, depending on size. The squash is done when a fork can easily pierce the inside of the squash. To "shred" the squash, gently scrape the inside of the squash with a prong. Long, thin pieces will easily come off. Gather all the squash and squeeze out as much of the liquid as you can (otherwise you will have a very soupy casserole).
3. Meanwhile, in a large skillet, heat butter or oil and sauté the celery, onions and bell pepper until tender. Add 2 tbsp of flour and stir to combine.
4. Add the remaining ingredients, including the squash and ¾ cup of the cheese, and stir to combine.
5. Divide the mixture evenly between the 2 pans and bake for 35 minutes. Top with the remaining ¼ cup cheese and bake an additional 10 minutes.

Nutrition Information
Serving size: ¼ of one 8x8" pan
Calories: 170
Total Fat: 8g
Saturated Fat: 2g
Trans Fat: 0g
Cholesterol: 35mg
Sodium: 320mg
Total Carbohydrates: 9g
Fiber: 1g
Sugars: 2g
Protein: 16g
Vitamin A: 15%
Vitamin C: 45%
Calcium: 10%
Iron: 6%