Severe weather from Texas to Minnesota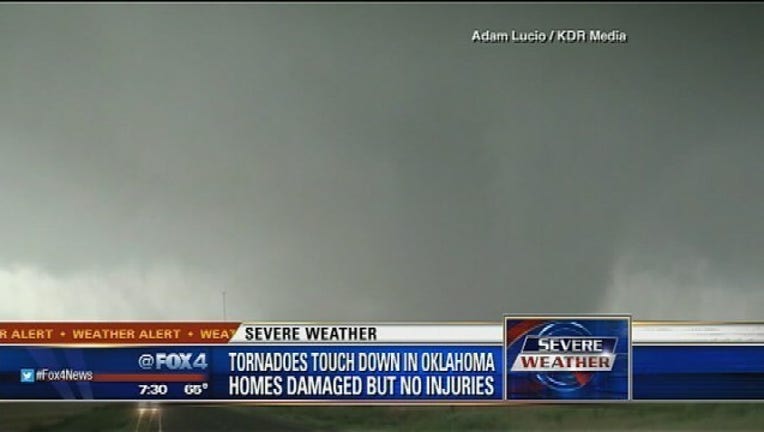 article
OKLAHOMA CITY (AP) -- A powerful storm system stretched from Texas to Minnesota on Sunday, bringing heavy rains and the possibility of flash flooding and more severe weather.
Flash floods could happen in parts of the country that saw damaging tornadoes and strong winds Saturday and early Sunday, according to Bill Bunting, chief of operations for the National Weather Service Storm Prediction Center in Norman, Oklahoma. There were no immediate reports of any deaths or injuries.
"We are seeing pockets of damaging winds from Missouri south to northeast Oklahoma," Bunting said early Sunday, noting the winds reached up to 60 mph.
Later Sunday, scattered severe storms are expected to develop in eastern Minnesota, western Wisconsin and parts of Missouri, Illinois and Arkansas. The system is the result of a cold front extending from the north central Plains into the southern Plains that pushed up behind warm, moist air.
"It's a very strong upper level disturbance," Bunting said, noting it stretched at one point nearly to the U.S. border with Mexico. "It's as extensive an area as we've seen this year."
Saturday's dangerous weather was centered in southwestern Oklahoma, where tornadoes touched down near Elmer and Tipton, National Weather Service forecaster Daryl Williams said. There were several other possible tornadoes, he said. Authorities said they had reports a tornado touched down late Saturday northeast of Tulsa. And there were reports of large hail, some baseball-sized.
The most significant damage, according to Oklahoma emergency officials, was to homes, businesses and power lines. A storm in Lyon County, Kansas, was strong enough to push railcars off the tracks on Saturday.
Oklahoma Department of Emergency Management spokeswoman Keli Cain warned that a risk of isolated flooding remained Sunday.
"We've gotten a lot of rain in a short time. The ground is saturated, so every time we get another big soaking, the rain causes more flash flooding," Cain said.
Authorities also warned people in central and North Texas and northwest Arkansas to be alert for flash flooding as the system brought heavy rains on Sunday morning.