Severe storms Saturday night leave behind trail of damage in parts of North Texas
AZLE, Texas - Severe storms caught some people in parts of North Texas off guard after the sun went down Saturday.
There was a cluster of storms in Tarrant, Parker, and Wise counties that left behind a trail of damage.
The National Weather Service found that the damage was caused by a very strong downburst, and there were no indications that a tornado occurred.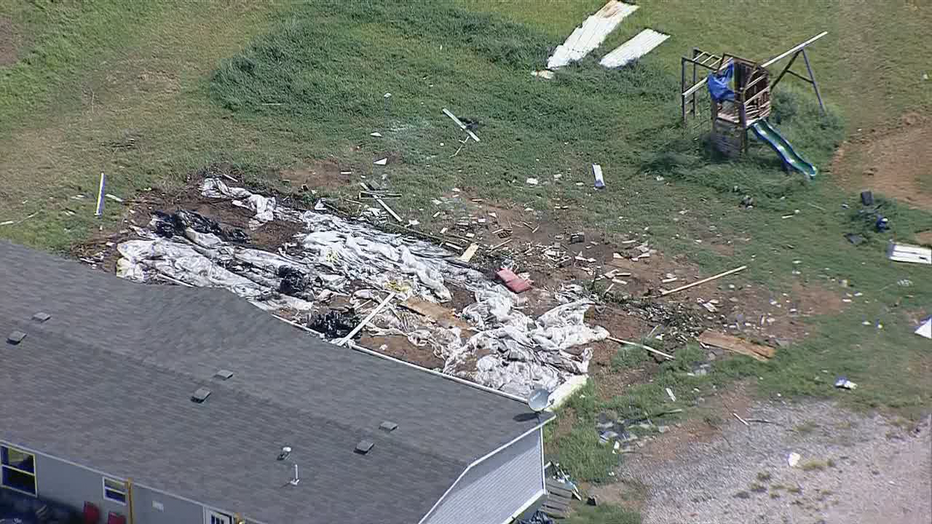 SKY4 flew over the damage Sunday morning, and several buildings were damaged or destroyed near Briar and Azle.
The view from above showed several mobile homes, buildings, and fences ripped apart.
A microburst, likely 70-80 miles per hour downburst winds, is responsible for destroying a number of RVs and literally flipping areas of the Azle community upside down.
"When it came through, it was wild," said Joseph Clark, whose RV was damaged.
He took cover inside a shed.
"And looking out the door of the shed, you couldn't see anything in front of you. You could barely see this trailer as it lifted up 20 foot in the air and laid on its side, and it was probably the scariest I've ever been," Clark recalled.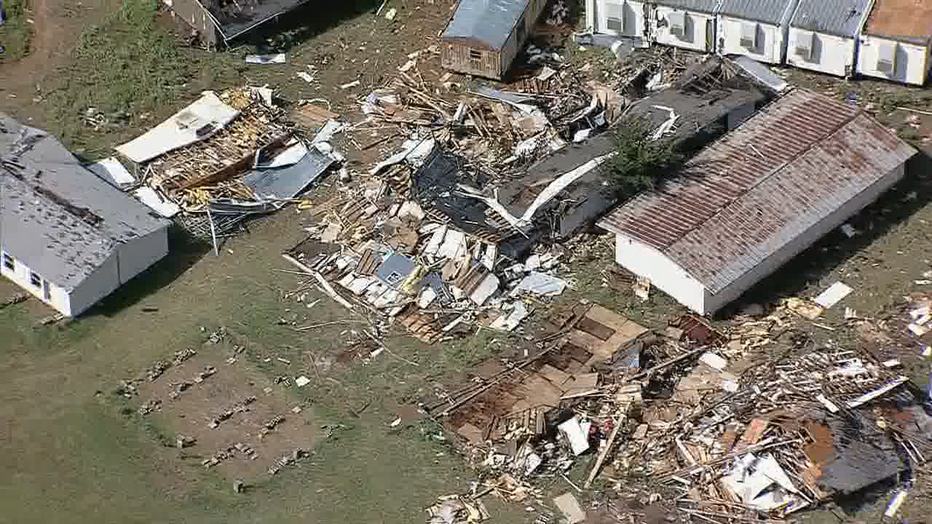 There were roughly 35 RVs off Boyd Road that were flipped over or were significantly damaged.
Six people were injured. Thankfully, none of those injuries are serious, according to first responders on scene, who performed nine rescues of folks who were stuck inside their homes
"I talked to several folks that were inside with their kids and their RVs actually turned over, upside down, when they were in there," said Moses Druxman, with the Briar-Reno Fire Department.
Laura Petersen, 71, is blind, and while she cannot see the damage, she feels it.
"It didn't ask for permission, it just rearranged," she said.
Her husband took her to hide in a bathroom.
"And then all hell broke loose," she recalled.
People are helping repair some of the damage to her home. Debris is covering her yard, but so are people who are willing to pick up the pieces.
"Well, people still care about people," Petersen said.
And that's what Clark said this community is all about.
"Everybody was walking around, checking everybody's trailers, making sure they had a place to stay," he said.
Crews on scene said about 100-150 people are displaced from the storms.