Search for hit-and-run drivers who hit elderly man pushing wheelchair in Lewisville
LEWISVILLE, Texas - Lewisville police are looking for two drivers who took off after hitting an elderly man who was pushing a wheelchair across the street on Wednesday.
The vehicles were traveling east on Lake Park Road, not far from I-35E, when both cars hit 73-year-old M.T. Daniels.
Both vehicles left without rending aid to the elderly man.
Investigators said they may live in the apartment complexes nearby, which is the same complex the victim lived in.
His family said he was walking to the nearby gas station, something he always does.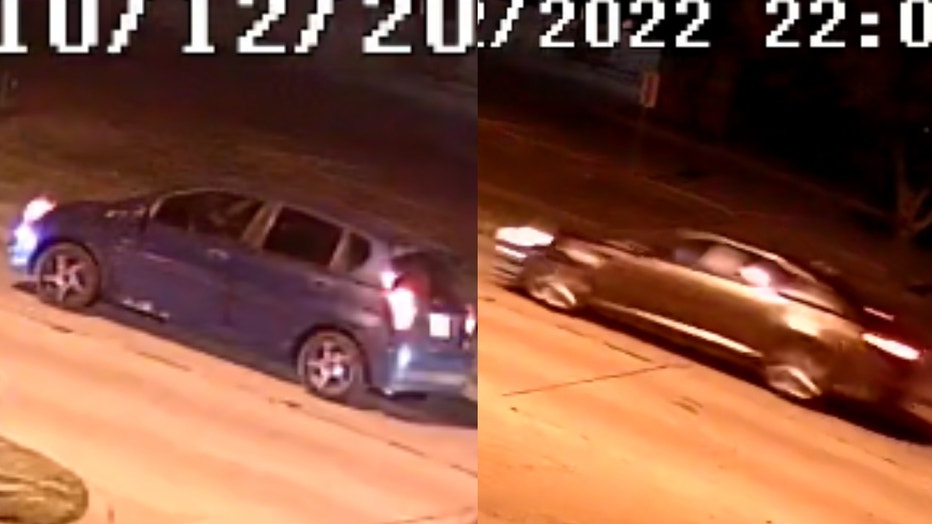 His walk was just a block away.
READ MORE: Family of man killed by hit-and-run drivers in Dallas searching for answers
Wednesday night at 10 p.m., Daniels' family said he was walking home from the nearby corner store on Lake Park Road. 
He crossed the street while pushing his wheelchair for support. 
Surveillance video sent to FOX 4 shows the first car speeding off after hitting Daniels. 
Soon after, a second vehicle drives over Daniels, backs up, then leaves.
Photos from the scene show one car that appears to be blue and another dark vehicle.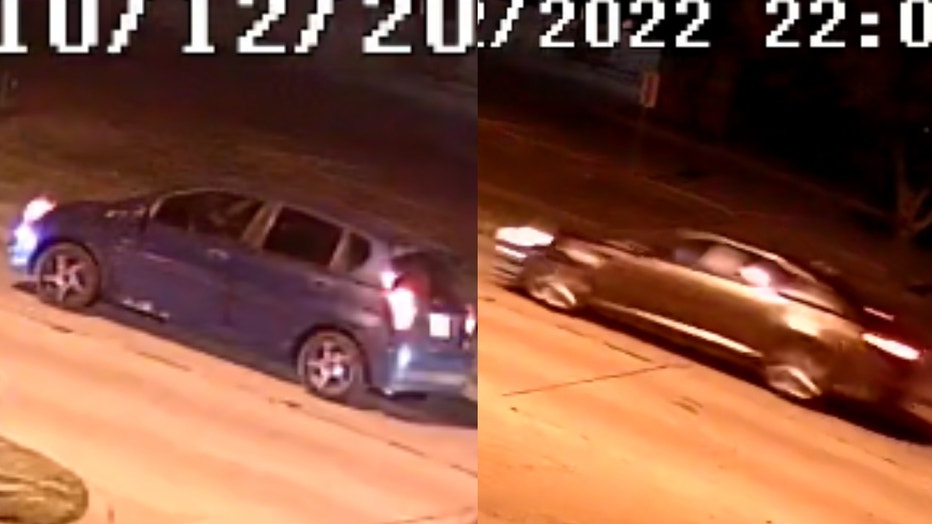 (Source: Lewisville Police Department)
Daniels was taken to the hospital in serious condition.
"I just want the neighborhood to reach out, if they know who did this to my dad," Avron Daniels said.
Avron, along with his four siblings, moved their 73-year-old father to Lewisville to be closer to family. 
But also for his favorite hobby, which was fishing. 
"He wanted to be by the lake, and now we don't know if that's going to even happen again, or even if he can go home," Daniel's daughter, Kiki Purvis, said.
Daniels is now fighting for his life inside Medical City McKinney.
The 73-year-old has bleeding of the brain, a broken leg, and stitches all over his body after police said two vehicles hit him and neither stopped to help. 
"[To] not stop, not care. No sense of human life," Purvis said.
"If I would've came out my apartment five minutes earlier, I would have witnessed the whole thing," Daniels' son said.
This happened while Daniels was only feet away from his apartment complex. 
His son also lives in the same complex. 
Avron was taking his dog outside when he noticed all the commotion, only to realize it was his dad in the middle of the street. 
"To see my dad on the ground unresponsive, I thought he was dead," Avron recalled.
In the surveillance, Avron can be seen on the phone with his sister as others pulled over to call 911. 
"I don't have enough words to say what is inside of me and what is inside of my family and what we are going through. My dad is in very critical condition right now," Purvis said.
While the four siblings care for their father, Lewisville police are asking the public for help. 
Right now, police don't even know the make of the cars.
Purvis is begging for someone to speak up.
"If you have any sense of life, please come forward, just come forward," she said.
Lewisville police said they in the process of interviewing neighbors and people who stopped to help and also collecting surveillance. 
Anyone with information is asked to call 972-219-3694 or email tthomas@cityoflewsiville.com.