Scurry-Rosser football players pay tribute to cheer captain's mom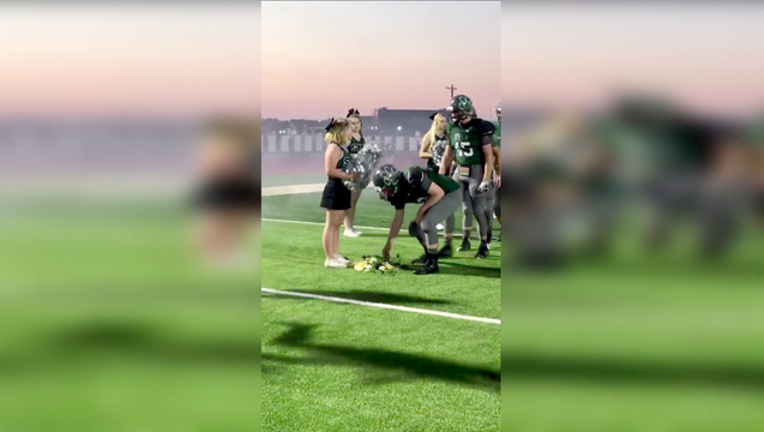 article
SCURRY, Texas - In the Kaufman County town of Scurry, the Friday night lights shine brightly. That was the case this past Friday, but it's not a big football action that everyone's talking about.
It was a small act of kindness when a cheerleader needed it most. Scurry-Rosser High School has less than 400 students. So when one of them is struck by tragedy, it was felt across the student body.
Instead of running out yelling and cheering at the beginning of last Friday's game, the Scurry-Rosser football team took a more somber tone entering the field. Each player laid a yellow rose at the feet of Cheer Captain Hayden Whisman.  It was a touching moment captured on cell phone video.
"Since it is such a pivotal point in my life, it's really such a big helped to know I am loved in this community," she said.
Hayden's mom, Denise, was a fixture at Scurry-Rosser football games until a few weeks ago. The Saturday morning after a game, Hayden discovered she had a fatal stroke.
"She was my biggest supporter. My biggest fan," Hayden said. "She helped me with everything. She cheered me on all the time."
Hayden's boyfriend, Brandon Laird, wanted to do something special for one of her first games back.
"When Hayden smiles, it just overwhelms me," he said. "And anything to make her happy, it makes me happy. I love Hayden, and I love her family. And it's honestly the least I could do."
It was a moment that Hayden says sums up the big outpouring of support from a small school of just 320 students.
"I know that if I probably went to a bigger school, it would probably go unrecognized," she said. "I'm just unbelievably blessed to have all this love and support from my peers."
"It was just a great feeling. We are just a big family here," said football player Jack Bussey. "So when one of us goes down with a loss, we all kind of gather around and try to uplift that person."
Scurry Rosser Principal Christian Reed sees it as an opportunity for the world to see how compassionate teens can be.
"Some of the news about young athletes is not so positive, and I think that's not the case across the board," Reed said. "I think there are a lot of fantastic teenagers that are doing a lot of great things and this, in my opinion, is just a picture of that."
"The little things really matter in times like this," Hayden said.