School district offers unexpected response in closings tweet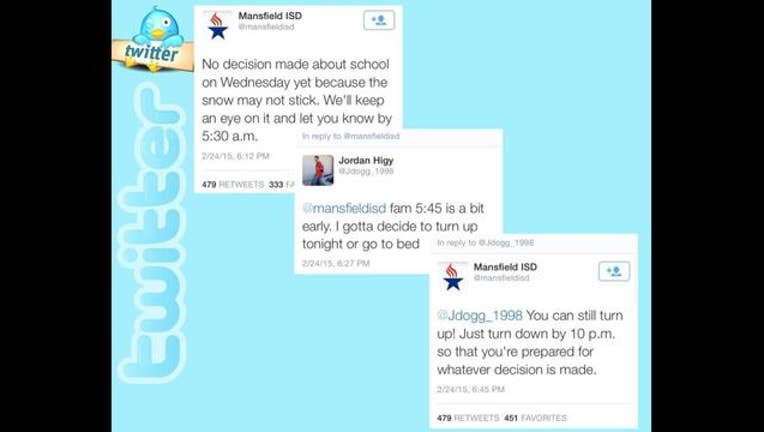 article
A tweet from the Mansfield Independent School District to a student about school closings is going viral.
With the threat of snow in the forecast, @mansfieldisd said on Tuesday night on Twitter that it would keep an eye on the weather and let students know by 5:30 a.m. whether they would have classes.
One hopeful student prompted the district for more.
"@mansfieldisd fam 5:45 is a bit early. I gotta decide to turn up tonight or go to bed," Jordan Higy said on Twitter.
"@Jdogg_1998 You can still turn up! Just turn down by 10 p.m. so that you're prepared for whatever decision is made," the district replied.
The series of tweets has been shared over and over on social media.
"I love Mansfield ISD. The teachers are great and we always have a fun time," Stephanie Simon Barnes said on a FOX 4 Facebook page.
But not everyone was amused. Some said it sounded like the district was condoning "turning it up," which is slang for getting wild and crazy, often at a party or with the help of alcohol or drugs.
"Hope the only thing he turned up was his covers. This was not an appropriate response," said Brandi Jackson.
"Should the district really be condoning "turning up"?? Just curious bcuz I have a teenage daughter and wouldn't want her district condoning that especially since I don't. Inappropriate if u ask me," added Jess Mayo.
"He was concerned about school. And its a fun way to respond to a student allow them to make a choice between being responsible and going to bed or staying up and having a chance of going to school on no sleep. I liked it," argued Cheyenne Baxley.
.
FOX 4 is on YouTube -- http://bit.ly/fox4subscribe