Saccone concedes Pennsylvania US House race to Lamb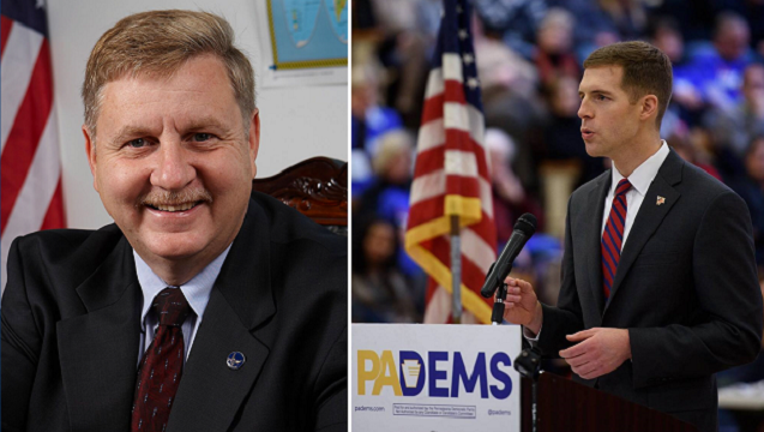 article
By MARC LEVY
Associated Press
HARRISBURG, Pa. (AP) -- Republican Rick Saccone conceded defeat to Democrat Conor Lamb on Wednesday night in a closely watched special election in Pennsylvania, more than a week after the end of a remarkable race that has shaken GOP confidence ahead of the November midterm elections.
Lamb, 33, claimed the seat by about 750 votes in a Republican-held district that President Donald Trump won by almost 20 percentage points just 16 months ago. Lamb, who struck a moderate tone during the race and was backed by the district's influential labor unions, beat Saccone, a state lawmaker who had compiled one of the most conservative voting records in Pennsylvania's Legislature.
Lamb also benefited from what Pittsburgh-area Democrats called the party's most energized electorate they had ever seen, driven by an anti-Trump fervor.
On Twitter, Lamb said he had just gotten off the phone with Saccone and congratulated him "for a close, hard-fought race."
 Republicans considered seeking a recount request or a lawsuit to contest the result, even as vote-counting over the past week continued to pad Lamb's lead. If there is no challenge, Lamb could be sworn in after April 2, when the last of the four counties in the district expects to finish certifying the result.
The seat became open in October when eight-term Republican Rep. Tim Murphy resigned amid a scandal in which it emerged that the anti-abortion lawmaker had asked a woman with whom he was having an extramarital affair to get an abortion when he thought she might be pregnant.
Locally, the outcome has a short-term effect.
The district is dissolving under a court-ordered redraw of Pennsylvania's 18 congressional districts, leaving Lamb to seek the nomination to challenge three-term Republican Rep. Keith Rothfus in a newly drawn district west of Pittsburgh that is considered a toss-up. Saccone is running in a new, more Republican district in Pennsylvania's southwest corner that retains much of the territory he and Lamb campaigned in for the last four months.
Nationally, Lamb's win highlights Democratic potential and Republican vulnerabilities ahead of the fall campaign with the GOP trying to defend its majorities in Congress. Democrats are now 23 seats shy of the majority -- though it effectively stays at 24 because Lamb is pursuing Rothfus' seat.
 In the race, Lamb downplayed opposition to Trump, who remains more popular in the district than nationally. He opposed sweeping new gun regulations and supported Trump's steel tariffs, but he is a fierce critic of Republicans' tax cuts and their economic and health care policies. 
Saccone, 60, adhered to Republican orthodoxy and openly embraced Trump, who tweeted numerous times on his behalf and campaigned in person twice, including a raucous rally the Saturday before voters cast ballots.
Outside Republican groups spent more than $10 million -- about seven times as much as outside groups spent for Lamb -- with much of it attacking Lamb as a stooge for national Democrats, particularly House Minority Leader Nancy Pelosi. Lamb, however, distanced himself from Pelosi and held national Democrats at arm's length while he easily outraised Saccone in campaign cash. 
Saccone, meanwhile, was hurt by an anti-union voting record in the state Legislature, which had motivated union members in a district with a long history of steel making and coal mining to vote against him.