Russ Martin Show listeners donate $200K to slain officers' families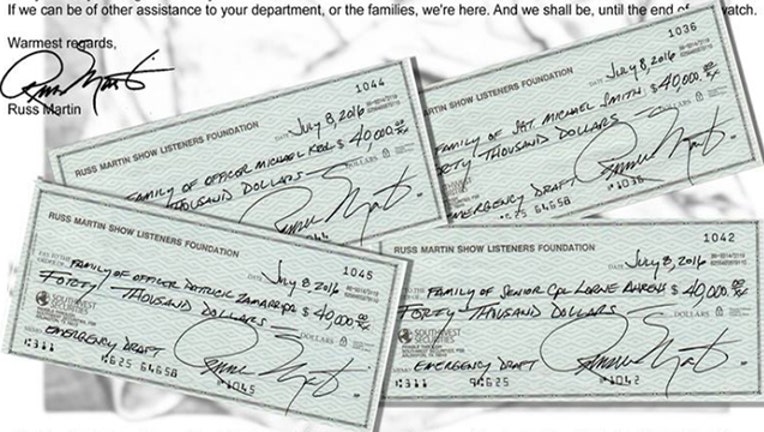 article
Listeners of a popular local radio show have donated $40,000 to each of the families of the five officers killed in last week's sniper ambush in downtown Dallas.
The Russ Martin Show Listeners Foundation sent the checks the day after the shooting. Each is made out to the family of a fallen officer.
The foundation posted two letters to Dallas Police Chief David Brown and DART Police Chief James Spiller on its Facebook page, sending its sympathies to the victims' families and including a picture of the checks.
"Under your guidance, you have held true to the mission of the Dallas Police Dept.: Be examples of honesty and integrity in your professional and personal lives, thereby earning the public trust," one letter reads.
The other letter recognizes DART officer Brent Thompson: "As citizens of North Texas, we embrace the honor, courage and selfless service Officer Thompson gave to North Texas as well as serving or country in Southern Iraq and Southern Afghanistan in the Marine Corps."
It's not the first time the foundation has supported the families of fallen officers this year. In March, it donated $30,000 to the fiancée of slain Euless officer David Hofer, who was killed in a shootout in a city park.