Rockslide indefinitely closes I-35 NB near Texas-Oklahoma border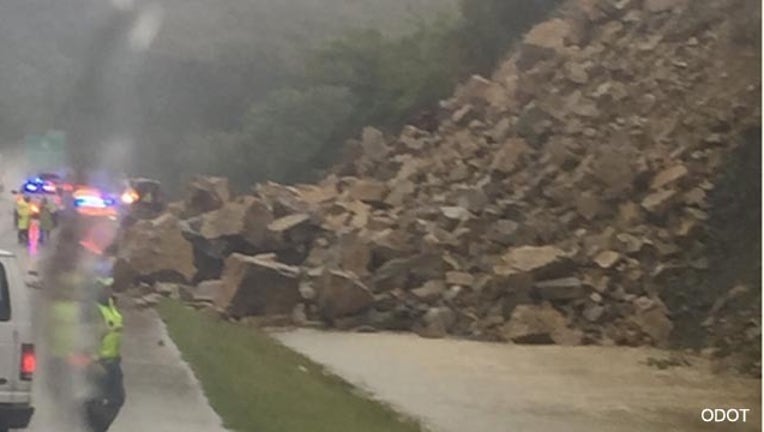 article
A rockslide including a large boulder has forced the closure of a portion of one of Oklahoma's busiest thoroughfares after a night of heavy rains.
The Oklahoma Highway Patrol has indefinitely closed the northbound lanes of Interstate 35 in Murray County following a downpour in the area. Troopers say a vehicle struck the large boulder that rolled down from the Arbuckle Mountains and that at least one person suffered unspecified injuries.
Oklahoma Highway Patrol Lt. John Vincent said Thursday that among the roadways closed due to flooding and debris caused by the storm was a section of I-35 northbound near Ardmore.
State troopers are helping clear dislodged boulders from the roadway. Smaller rocks are continuing to fall in the area.
Murray County was one of the hardest areas hit by Tropical Depression Bill overnight. National Weather Service meteorologist Vivek Mahale in Norman says the storm dropped 6 and 11 inches of rain on portions of Murray and Carter counties.
Amber Wilson, the emergency management director for Ardmore, says the tropical depression moving northward through the state dumped more than 10 inches of rain on the city.
She says the rain turned Ardmore streets into rivers and that the flooding damaged an unknown number of homes and businesses in the community, and that crews are assessing the damage.
A state official says no storm-related injuries have been reported, but authorities are still searching for a 2-year-old boy who was swept away by a swollen creek Wednesday.
FOX 4 is on YouTube -- http://bit.ly/fox4subscribe