Rocketship Texas breaks ground on charter school in Fort Worth's Stop Six neighborhood
FORT WORTH, Texas - Ground was broken in the Stop Six neighborhood of Fort Worth Wednesday on a new charter school.
Construction is already underway, and it should be ready by next school year.
A nationally known public charter school is set to make the Stop Six community its home. 
Rocketship Public Schools Texas released renderings for the high-tech two-story campus to be constructed on Berry Street, in the heart of a historic community that has battled many challenges.
"I'm excited to celebrate the official breaking of ground of our first school," Rocketship Public Schools Texas Superintendent Sajade Miller said.
Rocketship is a national network of elementary schools placed in underserved communities across the country, from Washington D.C. to California.
Miller, a former Dunbar High School principal, and other key players have close ties to the Stop Six community.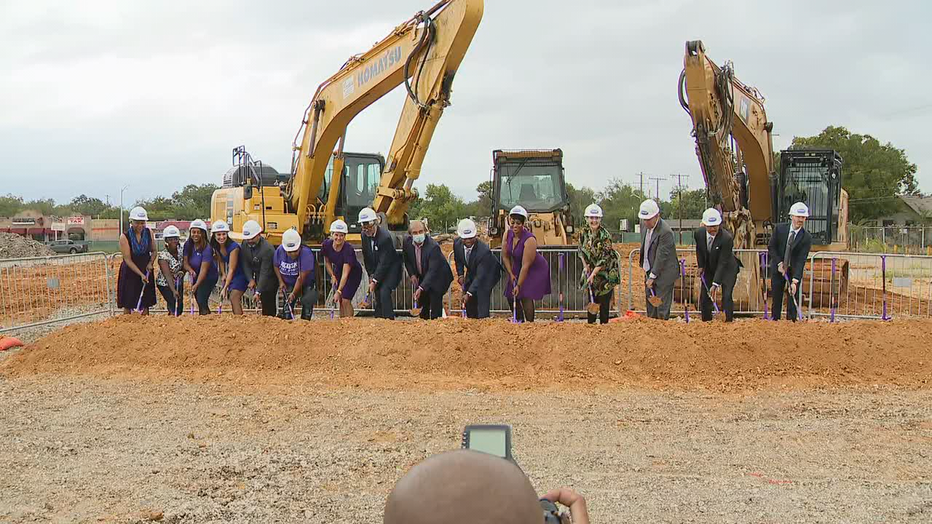 MORE: Fort Worth Coverage
Former Fort Worth ISD Superintendent Dr. Walter Dansby will serve as a board member. He points out that Rocketship will focus on the needs of children from diverse socio-economic backgrounds.
"This is not a knock on Fort Worth ISD. Our plan is to work with Fort Worth ISD and collaborate to make sure the kids, the K-5 years continue to middle school in Fort Worth ISD to make a better school district for the entire city. Not just for Rocketship. So It's a team effort," he said.
The school will open in the fall of 2022 and offer personalized learning, parent leadership teams, and support from mental health professionals.
Dr. Christine Hanson will serve as principal. She grew up in Stop Six, and looks forward to future rocketeers excelling despite all odds.
"Systematically, things were done to our community, for our community, instead of with our community, so thank you for engaging with Rocketship and engaging in this work," she said.
Rocketship also has the support of the city of Fort Worth.
"I have great hope for Rocketship. I know they are going to deliver. My challenge to you is spread the vision, because when it's time to get enrollment, I want you guys to knock it out of the park so that people will know Rocketship is in the house," Fort Worth Mayor Pro Tem Gyna Bivens said.