Richardson ISD student arrested after gun found in vehicle near Berkner High School, police say
RICHARDSON, Texas - Richardson police arrested a Berkner High School student after a real gun and replica rifle were found in his car that was parked in a lot near the campus.
The school went on lockdown for about an hour Wednesday morning, and police credit the quick arrest to someone who saw something and said something.
Parents have been forced to once again have difficult conversations with their children about shootings in schools after Richardson PD investigators said a student had an AK-47 style pistol and a replica AR-15 style Orbeez rifle in his car.
"My daughter came home today, she is ten years old, and she was like, 'Oh my God daddy, there was a lockdown,' I haven't had the conversation yet," said Banneka Namasaka, who also has a child who is a 9th grader at Berkner.
A day after the deadly mass school shooting in Uvalde, parents, students, and educators in Richardson had a scare of their own.
READ MORE: Texas school shooting: 19 children, 2 adults killed before gunman shot
Richardson police said Wednesday morning, just before 11 a.m., a 9-1-1 call came in saying a male was walking towards Berkner High School while holding what appeared to be a rifle. 
Within minutes, police swarmed the campus, identified the underage student, and took him into custody. 
"I heard the sirens from home and everything because I am close by," Namasaka recalled.
Investigators said the student did not have a weapon with him in the school, but said that a loaded firearm was found in the boy's car, which was parked across an intersection from the campus.
FOX 4 cameras were there when a Volkswagen Jetta in the parking lot where police were investigating was towed from the scene.
Police said the gun found in the car appeared to be an AK-47 style pistol. Officers also found a replica AR-15 style Orbeez rifle.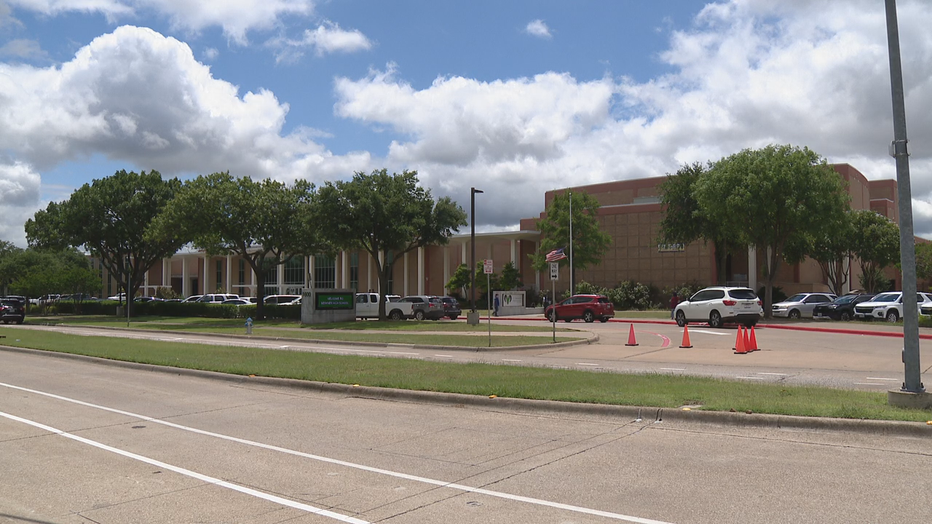 "It's scary. It's just, it's hard to say man. What happened [in Uvalde], 19 kids. I have a 5-year-old I picked up from Pre-K, I'm speechless," Namasaka said.
FOX 4 has learned Richardson police had contact with the juvenile in recent months, but sources did not have any details on the nature of that interaction with officers. 
The high school and nearby elementary school were put on lockdown.
Police charged the boy with unlawful carrying weapons in a weapon-free school zone.
With multiple children and teachers being killed hundreds of miles to our south, the conversation of school shootings is once again in the spotlight. 
For Namasaka, he's struggling to come up with the words to explain what's going on to his young children. 
"I am going to talk to her today and let her know what happened, but its 19 kids, man. Her age, trying to figure out like the process of trying to have this conversation," he said. "It's going to be tough because that's a safe place, a school. I don't want her to feel uncomfortable, so we will see what happens."
The student who was arrested is under the age of 17, so his name will not be released. Two parents who were at the school Wednesday said the school district had an issue with the student earlier this school year. 
The district has not verified those statements, only saying in their statement to parents the guns were not on campus and praising the person who called 911.