Refugees, including those from Afghanistan, celebrate Thanksgiving in North Texas
PLANO, Texas - Afghan refugees got a taste of the American way of life as they celebrated Thanksgiving in North Texas.
More than 124,000 Afghans fled their country in the largest air-lift operation in U.S. history.
Some of them who relocated to North Texas remain heartbroken about what's happened and the family left behind, but hopeful that life can change in their native country and their new home.
The annual celebration for the American holiday Thanksgiving for refugees in North Texas was made even more special this year by those here from Afghanistan who served alongside the U.S. military.
Final preparation were underway Thursday morning for a Thanksgiving feast by an army of volunteers at Plano's Church of the Holy Nativity.
"Thank you for giving us your time on Thanksgiving Day," Dennis Page, with Gateway of Grace Ministries Refugee Outreach, told volunteers. "This is a big deal to us but it's an even bigger deal to families that we're going to serve."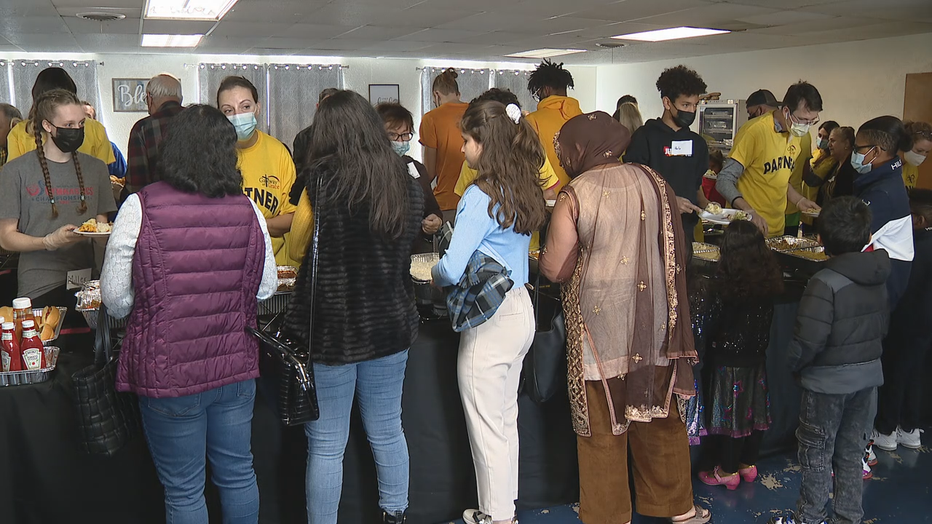 Since 2010, Gateway of Grace Ministries Refugee Outreach has been serving Thanksgiving for strangers in a new land, learning the country's traditions.
For these families, the meal was a mix of foreign to them, with turkey and all the trimmings, along with familiar Middle Eastern fare.
"In light of what was going on in Afghanistan this year, it was really important for us to gather together and be able to share the joy of the season with the Afghan refugees who are new to this country," said Samira Page, with Gateway of Grace Ministries Refugee Outreach.
In August, as American military withdrew its forces, Afghanistan fell to the Taliban.
"That's a really bad situation. Today, we do not want this new government, the Taliban, so we hope that's going to change in our country," a refugee name Gulajan, who didn't want to use their last name, said.
Gulajan has been here one month. He helped U.S. soldiers in their fight in Afghanistan.
Another refugee, Mohammed, is grateful to be here, but worried about the future of Afghanistan.
"And right now, it's not only the security problem, it's the economic problem too. Like all the bank system is down, nobody can go to the bank, and even if they send the money, it's not easy. They can't get it," he explained.
"We would like to help these refugees, especially from Afghanistan, to understand that they are welcome here they belong to this community," Samira added.
While Gulajan is waiting for his family to make it here from Afghanistan, he and others are understanding the meaning of Thanksgiving.
"This is a give thanks day, it's happy day," he said. 
Despite the struggles, this event gives these refugees a sense of belonging and gives them hope as they embrace the promise of a new future in a new land.
READ MORE: Turkey Trot returned with in-person event in Downtown Dallas