Turkey Trot returned with in-person event in Downtown Dallas
DALLAS - It was big fun and a big fundraiser for the YMCA of Metropolitan Dallas on Thanksgiving for Turkey Trot that started at Dallas City Hall.
This year's Turkey Trot, wasn't quite as massive as years past, but it happened in person.
For thousands of North Texas families, this event is as much a part of Thanksgiving as turkey and stuffing. 
Because of the pandemic, last year's Turkey Trot was 100% virtual, meaning no one actually gathered out in front of Dallas City Hall to run or walk. 
This year, organizers expected about 13,000 participants.
Donations and proceeds from this event benefit the a number of community health and fitness programs offered by the YMCA of Metropolitan Dallas that promote healthy families.
MORE: Holiday News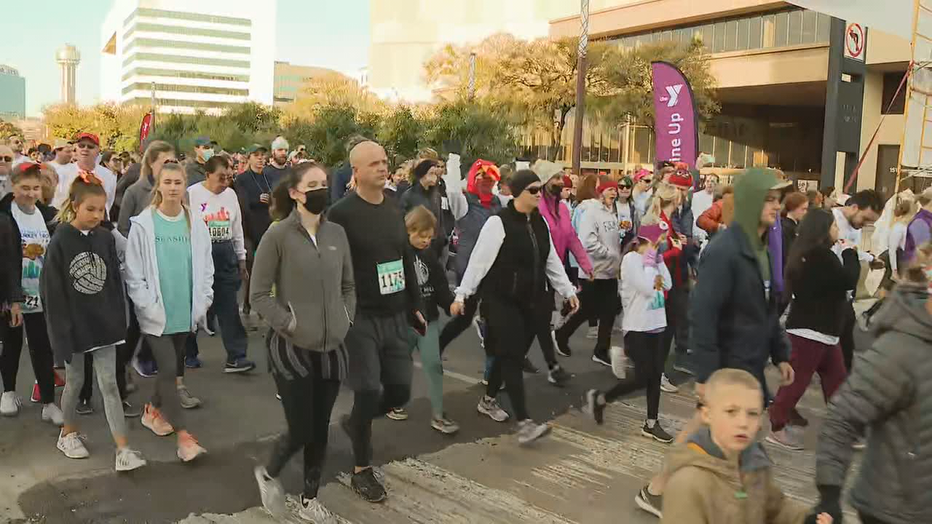 This is the 54th year for the Turkey Trot, and to those who are hitting the pavement to run or walk, the return of this event is a very special thing.
"Just to see everybody again, the old friends. This is like homecoming week," Kerry Little said. "Everybody gets together from out of town and we all get together during and after, and it just kicks off the holiday season and Thanksgiving."
"I've been doing this since 2006 and 2007. I'm a walker, and I'm doing the eight miles today. Yay! But we missed it last year," Leslie Garrett said.
"I'm like ready for this. I'm hyped for this. I'm ready to run. Just ready for a normal day, you know?" 16-year-old Marco Cruz said.
It's not uncommon to see three generations of the same family, sometimes four, represented. 
This year's theme, "Thankful Together," emphasized that the Turkey Trot is once again an occasion for people from all over North Texas and beyond to gather and do something fun and healthy for the holiday, as well as support a terrific cause all at the same time. 
There was also a virtual option this year for those who want to go that route and still contribute to a terrific cause.