Red Chili Braised Pork, Hominy Puree, Tortilla Slaw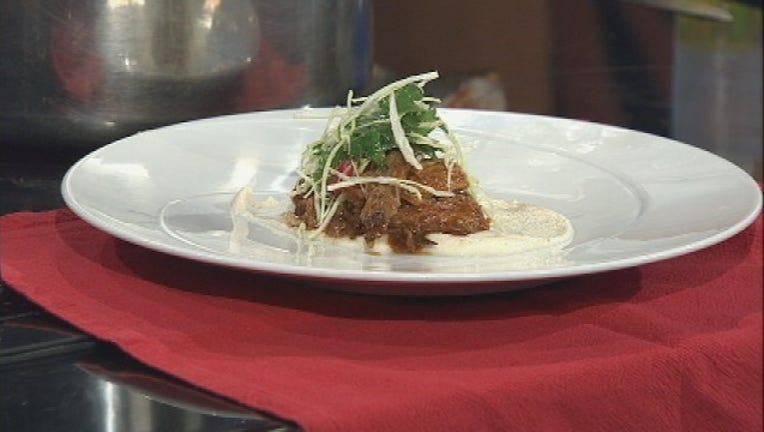 article
TO MAKE THE HOMINY
2 cups hominy
2 tablespoons pumpkin seeds, toasted
1/4 cup yellow onion, diced
2 tablespoons garlic cloves, minced
3 tablespoons lemon juice
3/4 cup canola oil
2 teaspoons salt
TO MAKE THE PORK
7 pounds pork shoulder(butt) roast
1 tablespoon kosher or regular table salt
1/3 cup olive oil
dried ancho chili
2 tablespoons tomato paste
1 each carrot, chopped
1 piece celery, chopped
4 each yellow onion, chopped
3 cups chicken broth
TO MAKE THE SLAW
1 cup green cabbabe, shredded (1 cup)
1 cup radish, shredded (1 cup)
1/4 cup cilantro leaves, packed
1 tablespoon lime juice
olive oil, to taste

Directions
1. TO MAKE THE PORK Rinse and dry the pork, then sprinkle about 1/2 teaspoon salt lightly on all surfaces, patting it on Pour the oil into the braising pan and set it over medium heat. Before it gets hot, lay the pork in and brown it-lightly-turning it after a minute or so on each side. While the meat is browning, add the ancho chilies and toast slightly. Remove pork from pan and set aside. Add the tomato paste, onions, celery, carrots and chicken broth.
Place pork back into pan and cover the pan with plastic wrap and then foil.
Cook in preheated oven of 275 and cook for 4 hours.
Remove meat gently and cool till cool enough to pull.
Blend liquid and strain into sauce pot. Reduce by half and season with salt
and lime juice. Mix with the meat and serve hot.
2. TO MAKE THE HOMINY PUREE Combine all ingredients into blender and blend till smooth.
3. TO MAKE THE SLAW Combine all ingredients in mixing bowl right before serving.
Season with salt to taste.
4. TO SERVE Heat a small amount of the pulled pork with the reduced braising liquid and heat through. In the center of small plate, spoon a small amount of the hominy puree.
Top with some of the pork and garnish the top with the dressed slaw.